I recently mentioned that An Anonymous Girl by Greer Hendricks and Sarah Pekkanen debuts at #1 on the New York Times Best Seller list on January 27. The two authors appeared at the Poisoned Pen, and celebrated with champagne. You can celebrate as well by ordering a signed copy of An Anonymous Girl. https://bit.ly/2CHeoYz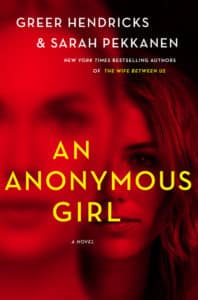 If you missed the earlier summary, here it is.
The instant #1 New York Times bestseller (January 2019)!
Seeking women ages 18″"32 to participate in a study on ethics and morality. Generous compensation. Anonymity guaranteed.
When Jessica Farris signs up for a psychology study conducted by the mysterious Dr. Shields, she thinks all she'll have to do is answer a few questions, collect her money, and leave.
Question #1: Could you tell a lie without feeling guilt?
But as the questions grow more and more intense and invasive and the sessions become outings where Jess is told what to wear and how to act, she begins to feel as though Dr. Shields may know what she's thinking…and what she's hiding.
Question #2: Have you ever deeply hurt someone you care about?
As Jess's paranoia grows, it becomes clear that she can no longer trust what in her life is real, and what is one of Dr. Shields' manipulative experiments. Caught in a web of deceit and jealousy, Jess quickly learns that some obsessions can be deadly.
Question #3: Should a punishment always fit the crime?
From the authors of the blockbuster bestseller The Wife Between Us comes an electrifying new novel about doubt, passion, and just how much you can trust someone.
Praise for The Wife Between Us:
"A fiendishly smart cat-and-mouse thriller" —New York Times Book Review
"[A] seamless thriller that will keep readers on their toes to the very end…Readers will enjoy the dizzying back-and-forth as they attempt to figure out just who to root for and as the suspense ratchets up to one hell of a conclusion." —Booklist
*****
Even better, you can celebrate with the authors and the Poisoned Pen by watching the YouTube video.