The New York Times Fiction Best Seller list contains some familiar names for Sunday, January 20. Douglas Preston and Lincoln Childs' just appeared at The Poisoned Pen. Their latest Pendergast novel, Verses for the Dead, debuts at #2. Michael Connelly's Dark Sacred Night is still on the list after nine weeks. Did you get your signed copies at a Poisoned Pen event, or through the Web Store? https://store.poisonedpen.com
Here's one to watch for. Tami Hoag's latest thriller, The Boy, debuts at #11. Hoag will be at The Poisoned Pen on Tuesday, Jan. 22 at 7 PM, appearing with Taylor Adams, author of No Exit. You might want to pre-order your signed copy of The Boy through the Web Store. https://bit.ly/2CkeeFe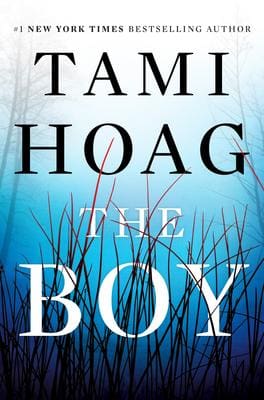 Here's the description of The Boy.
An unfathomable loss or an unthinkable crime? #1 New York Times bestselling author Tami Hoag keeps you guessing in her most harrowing thriller yet.
A panic-stricken woman runs in the dead of night, battered and bloodied, desperate to find help . . .
When Detective Nick Fourcade enters the home of Genevieve Gauthier outside the sleepy town of Bayou Breaux, Louisiana, the bloody crime scene that awaits him is both the most brutal and the most confusing he's ever seen. Genevieve's seven-year-old son, KJ, has been murdered by an alleged intruder, yet Genevieve is alive and well, a witness inexplicably left behind to tell the tale. There is no evidence of forced entry, not a clue that points to a motive. Meanwhile, Nick's wife, Detective Annie Broussard, sits in the emergency room with the grieving Genevieve. A mother herself, Annie understands the emotional devastation this woman is going through, but as a detective she's troubled by a story that makes little sense. Who would murder a child and leave the only witness behind?
When the very next day KJ's sometimes babysitter, twelve-year-old Nora Florette, is reported missing, the town is up in arms, fearing a maniac is preying on their children. With pressure mounting from a tough, no-nonsense new sheriff, the media, and the parents of Bayou Breaux, Nick and Annie dig deep into the dual mysteries. But sifting through Genevieve Gauthier's tangled web of lovers and sorting through a cast of local lowlifes brings more questions than answers. Is someone from Genevieve's past or present responsible for the death of her son? Is the missing teenager, Nora, a victim, or something worse? Then everything changes when Genevieve's past as a convicted criminal comes to light.
The spotlight falls heavily on the grieving mother who is both victim and accused. Could she have killed her own child to free herself from the burden of motherhood, or is the loss of her beloved boy pushing her to the edge of insanity? Could she have something to do with the disappearance of Nora Florette, or is the troubled teenager the key to the murder? How far will Nick and Annie have to go to uncover the dark truth of the boy?