The latest book in Beth Kendrick's Black Dog Bay series, In Dog We Trust, is scheduled for release on January 8. If you haven't read any books by the Phoenix author, this particular series is set in Black Dog Bay because it's been named "the best place in America to bounce back from your breakup". Because Kendrick is one of our local authors, many of her books, including In Dog We Trust, are available as signed copies. Check out the Web Store. https://bit.ly/2LRSO6E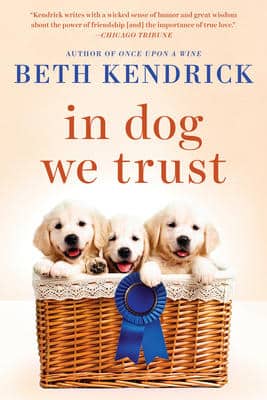 Here's the summary of In Dog We Trust.
From the author of Once Upon a Wine, a new novel set in the charming seashore town of Black Dog Bay, Delaware.
When everything has gone to the dogs . . .
When Jocelyn Hillier is named legal guardian for the late Mr. Allardyce's pack of pedigreed Labrador retrievers, her world is flipped upside down. She's spent her entire life toiling in the tourism industry in Black Dog Bay and never expected to be living the pampered life of a seasonal resident in an ocean side mansion, complete with a generous stipend. But her new role isn't without its challenges: The dogs (although lovable) are more high-maintenance than any Hollywood diva, the man she wants to marry breaks her heart, and she's confronted at every turn by her late benefactor's estranged son, Liam, who thinks he's entitled to the inheritance left to the dogs.
Jocelyn has worked too hard to back down without a fight, and she's determined to keep her new fur family together. As she strives to uphold the "Best in Show" standards her pack requires, Jocelyn finds love, family, and forgiveness in the most unexpected places.
*****
Joyce Lamb recently interviewed Beth Kendrick for the "Happy Ever After" column in USA Today. You can read the interview here. https://bit.ly/2F6daZe