Carl Hiaasen's new book is a juvenile book. Squirm might be designed for readers 8 to 12, but that doesn't mean adults won't appreciate the humor. Or, maybe you'll want to pick up a new book for the child in your life. You can order Squirm and other books by Hiaasen through the Web Store. https://bit.ly/2IprI5a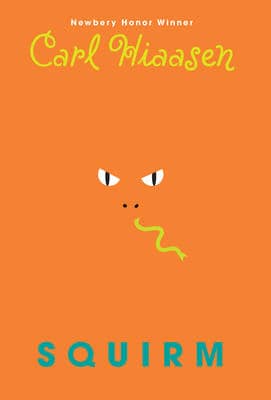 Hiaasen says he writes to entertain. When you read the description of Squirm, you can see what he means.
Newbery Honor-winning and #1 New York Times bestselling author Carl Hiaasen–beloved for his modern classics like Hoot and Chomp–delivers a wildly entertaining novel involving snakes, grizzlies, a missing dad, a menacing drone, and more!
Some facts about Billy Dickens:
*  He once saw a biker swerve across the road in order to run over a snake.
*  Later, that motorcycle somehow ended up at the bottom of a canal.
*  Billy isn't the type to let things go.

Some facts about Billy's family:
*  They've lived in six different Florida towns because Billy's mom insists on getting a house near a bald eagle nest.
*  Billy's dad left when he was four and is a total mystery.
*  Billy has just found his dad's address–in Montana.
This summer, Billy will fly across the country, hike a mountain, float a river, dodge a grizzly bear, shoot down a spy drone, save a neighbor's cat, save an endangered panther, and then try to save his own father.
Carl Hiaasen tells a wickedly funny, slightly twisted tale about families, figuring out what's really important, and knowing when (and when not) to let things go.
*****
Better yet, thanks to Penguin Random House, you can "Meet the Author", and hear Carl Hiaasen talk about writing.
[youtube https://www.youtube.com/watch?v=YUTDPoFkoe0?rel=0&w=560&h=315]