Mark De Castrique is one of the authors participating in the Ian Rankin Celebration sponsored by the Poisoned Pen on Labor Day weekend. https://bit.ly/2Pf1gNF. If you miss him at the conference, though, you can still order copies of his older books, or a signed copy of his new release, Secret Undertaking. The books are available through the Web Store. https://bit.ly/2L2fHmE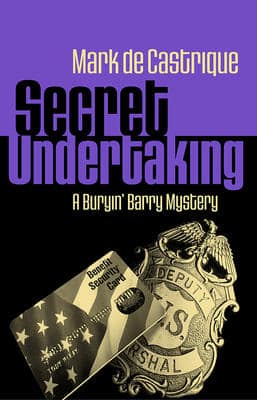 What's Secret Undertaking about?
[youtube https://www.youtube.com/watch?v=8nfs9VLjoyY&w=560&h=315]
Here's the description.
Towns like Gainesboro, North Carolina, may be small but go big on local traditions. When funeral director and part-time deputy sheriff Barry Clayton and his childhood nemesis, Archie Donovan, Jr., unite to create a fundraising float in Gainesboro's annual Apple Festival Parade, what could go wrong? With Archie involved – anything!
First, the Grand Marshal, NC Secretary of Agriculture Graham James, is attacked by a gunman and Barry's Uncle Wayne is critically wounded in the melee. The assailant is killed. Then, when the body of a convenience store owner is discovered less than an hour later with the gunman's food stamp card in his wallet, the case escalates. Two men dead. What is the connection?
Barry and Sheriff Tommy Lee Wadkins swiftly learn their small town offers no protection against big-time crime. The body count rises as the scope of their homicide investigation crosses into the realm of the U.S. Marshals and their secretive Witness Protection Program. To penetrate its walls, Barry and Tommy Lee resort to a most unlikely ally: Archie. Is the insurance agent, generally a victim of his own hare-brained schemes, capable of breaking the case, or will Archie find a way to become another of its casualties?
The trio's secret undertaking into a convoluted conspiracy becomes a fight for survival in a world filled with betrayals where it's impossible to know which people to trust.