Football player. Activist. Philanthropist. Those are all words that describe Michael Bennett, along with author. He was recently a speaker at Town Hall Seattle. We can share the program with you, however, we'd like to share the book first. You can order Things That Make White People Uncomfortable through the Web Store. https://bit.ly/2tAQ9Gy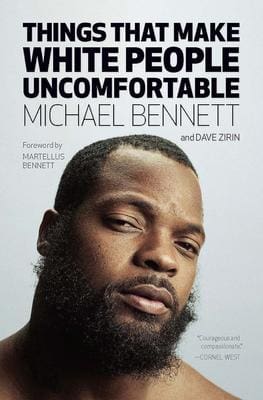 Here's the summary.
Michael Bennett is a Super Bowl Champion, a three-time Pro Bowl defensive end, a fearless activist, a feminist, a grassroots philanthropist, an organizer, and a change maker. He's also one of the most scathingly humorous athletes on the planet, and he wants to make you uncomfortable.
Bennett adds his unmistakable voice to discussions of racism and police violence, Black athletes and their relationship to powerful institutions like the NCAA and the NFL, the role of protest in history, and the responsibilities of athletes as role models to speak out against injustice. Following in the footsteps of activist-athletes from Muhammad Ali to Colin Kaepernick, Bennett demonstrates his outspoken leadership both on and off the field.
Written with award-winning sportswriter and author Dave Zirin,Things that Make White People Uncomfortable is a sports book for our turbulent times, a memoir, and a manifesto as hilarious and engaging as it is illuminating.
*****
For the first time in its over twenty-year-long history, the 1000-seat venue Town Hall Seattle sold out two nights in a row! The occasion? NFL player Michael Bennett, promoting his book 
Things that Make White People Uncomfortable, 
on June 18 and 19, an event you can watch 
here
. The popularity of the events was unsurprising, considering that 
Things that Make White People Uncomfortable
 was a 
New York Times
 bestseller for the month of May in the Sports and Fitness category.