Here's an award that isn't quite as well known as the Edgars, the Agathas, and the Anthonys. According to Wikipedia, "The Nero Award is a literary award for excellence in the mystery genre presented by the Wolfe Pack, a society founded in 1978 to explore and celebrate the Nero Wolfe stories by Rex Stout." This year's winner will be presented with the award at the Black Orchid banquet on Dec. 1 in New York City.
Congratulations to all of the finalists. Look for their books in the Web Store. https://store.poisonedpen.com/
Of course, an extra congratulations and hat tip to Warren C. Easley, whose Blood for Wine is published by Poisoned Pen Press.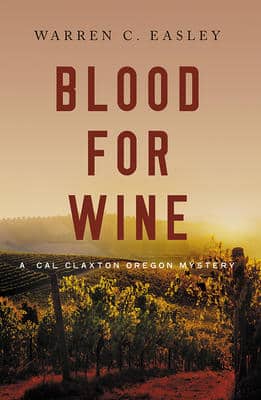 Here are the nominees.
The Dime by Kathleen Kent (Mulholland Books/Little, Brown)
The Lioness is the Hunter by Loren D. Estelman (Forge)
Gone to Dust by Matt Goldman (Forge)
August Snow by Stephen Mack Jones (Soho)
Blood for Wine by Warren C. Easley (Poisoned Pen Press)
*****
And, just in case you want to check it out, here's the summary for Blood for Wine.
Cal Claxton's old farmhouse sits high in Oregon's Red Hills, home of scores of wineries and some of the most coveted acreage for growing the pinot noir grape in the world. Former Los Angeles prosecutor Cal settled in this haven to reboot his life as a widower, growing a small practice that includes some pro bono work in nearby Portland. Life is good, filled with food, wine, and friends. But this beautiful area is not the idyllic haven it appears to be.
When Cal's neighbor, Jim Kavanaugh, the owner and gifted vintner of an up-and-coming winery, is accused of murdering his wife, his freedom-and the grape harvest-is suddenly in jeopardy along with his reputation, and his business begins to slide. No gentleman farmer, this puts the rugged winemaker's property, his only financial asset, in play. When a blackmail plot is hatched against the owner of adjacent land, it begins to look like a brutal game of real-life Monopoly is underway.
Cal agrees to defend Jim, a good friend, which pulls him reluctantly into the blackmail plot. Emotions are running high over Lori Kavanaugh's bloody death. There is no shortage of suspects. There may be more than the one game in play. And defending Jim might well make Cal the next target of a vicious, cunning killer.