If you didn't make it to the Venetian Tea with Laurie R. King the other day, you can still celebrate the publication of Island of the Mad. It's the current Hot Book of the Week at the Poisoned Pen. You can buy a signed copy of that book, or copies of King's other books through the Web Store. https://bit.ly/2JuI14f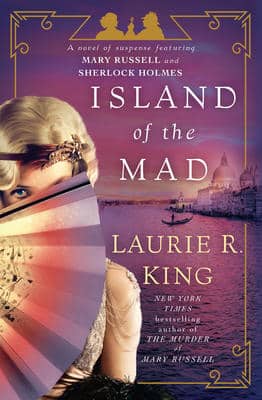 Here's the summary of Island of the Mad.
Mary Russell and Sherlock Holmes are back in Laurie R. King's New York Times bestselling series—"the most sustained feat of imagination in mystery fiction today" (Lee Child).
With Mrs. Hudson gone from their lives and domestic chaos building, the last thing Mary Russell and her husband, Sherlock Holmes, need is to help an old friend with her mad and missing aunt.
Lady Vivian Beaconsfield has spent most of her adult life in one asylum after another, since the loss of her brother and father in the Great War. And although her mental state seemed to be improving, she's now disappeared after an outing from Bethlem Royal Hospital . . . better known as Bedlam.
Russell wants nothing to do with the case—but she can't say no. And at least it will get her away from the challenges of housework and back to the familiar business of investigation. To track down the vanished woman, she brings to the fore her deductive instincts and talent for subterfuge—and of course enlists her husband's legendary prowess. Together, Russell and Holmes travel from the grim confines of Bedlam to the winding canals and sun-drenched Lido cabarets of Venice—only to find the foreboding shadow of Benito Mussolini darkening the fate of a city, an era, and a tormented English lady of privilege.
*****
And, I'm hoping this is going to work. If it does, you can watch the Facebook video of Saturday's event at the Poisoned Pen. If it doesn't work, you'll have to go to the Poisoned Pen's Facebook page to watch it.
https://www.facebook.com/plugins/video.php?href=https%3A%2F%2Fwww.facebook.com%2F238297496213972%2Fvideos%2F1825101207533585%2F&show_text=0&width=560