How about something a little closer to the Poisoned Pen today? Jenn McKinlay is the local author who writes the popular Cupcake Bakery mysteries. Her latest one is Wedding Cake Crumble.  You can find autographed copies of that title, and copies of McKinlay's other books in the Web Store. https://bit.ly/2IKkJqS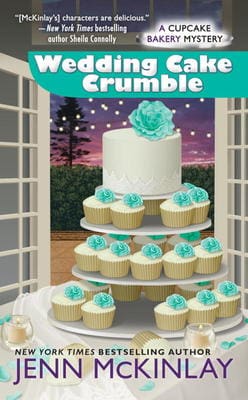 Here's the summary of Wedding Cake Crumble.
For the Fairy Tale Cupcake crew, wedding bells turn to death knells in this latest mystery in the New York Times bestselling series.
With Angie and Tate's wedding just around the corner, it's a happy time for Melanie Cooper and the bakery crew. Not only are they finessing the last minute details of the big day, but their bakery, Fairy Tale Cupcakes, has just been hired to bake cupcakes for the blockbuster book signing of a controversial author who wrote a steamy bestseller filled with juicy local gossip.
But one by one, the people Angie has hired to work at the wedding begin turning up dead. As the body count rises, the bestselling author is the next to bite the dust. Mel quickly realizes she needs to figure out how the murders are connected and why–before the killer brings the entire cupcake crew crumbling down. After all, Angie and Tate deserve their sweet happily ever after.
INCLUDES SCRUMPTIOUS RECIPES!
*****
Did you see that last line, "Includes Scrumptious Recipes!"? That's where today's fun part comes in. Doreen Sheridan recently wrote a post for CriminalElement's "Cooking the Books" feature. She reviewed McKinlay's book, and then made one of the recipes from the book, Champagne Cupcakes. You can follow along with the recipe, and check out the photos of the finished product.