Owen Laukkanen appears at the Poisoned Pen on Thursday, May 10 at 7 PM, discussing and signing his latest novel, Gale Force. Robert Anglen will interview Laukkanen and Kelli Stanley, author of City of Sharks. If you can't make it on Thursday, you can order their books through the Web Store. https://store.poisonedpen.com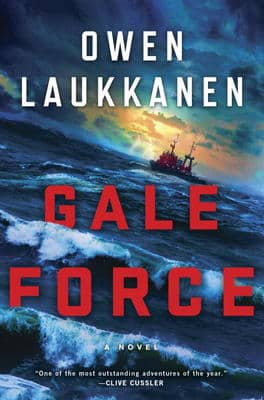 If you'd like to get to know Laukkanen a little better before Thursday, you can check out his blog, Project Nomad. His blog says, "This is #ProjectNomad. A man and his dog, looking for a better path." If Anglen doesn't ask him about his journey, you can ask him on Thursday night.
What's Gale Force about? Here's the summary.
For all lovers of maritime adventure comes an electrifying thriller of treachery and peril on the high seas featuring a dynamic new heroine, from multi-award-nominated suspense star Owen Laukkanen.
In the high-stakes world of deep-sea salvage, an ocean disaster can mean a huge payoff–if you can survive the chase.
McKenna Rhodes has never been able to get the sight of her father's death out of her mind. A freak maritime accident has made her the captain of the salvage boat Gale Force, but it's also made her cautious, sticking closer to the Alaska coastline. She and her crew are just scraping by, when the freighter Pacific Lion, out of Yokohama, founders two hundred miles out in a storm.
This job is their last chance–but there is even more at stake than they know. Unlisted on any manifest, the Lion's crew includes a man on the run carrying fifty million dollars in stolen Yakuza bearer bonds. The Japanese gangsters want the money. The thief's associates want the money. Another salvage ship, far bigger and more powerful than Gale Force, is racing to the rendezvous as well. And the storm rages on. If McKenna can't find a way to prevail, everything she loves–the ship, her way of life, maybe even her life itself–will be lost.
Filled with bravery, betrayal, sudden twists, and pure excitement, Gale Force is a spectacular new adventure from the fast-rising suspense star.
*****
Still interested? Rob Hart interviewed Owen Laukkanen in a Litreactor. Check out the article, "Owen Laukkanen on Boats, Trains, Dogs, and His Latest Novel 'Gale Force'." https://bit.ly/2HZJU8s