Steven Saylor appears at The Poisoned Pen tonight (February 20) at 7 PM to discuss The Throne of Caesar. It's the Hot Book of the Week. You can order a signed copy through the Web Store. https://bit.ly/2FflWS7
It comes with a signed bookmark designed by Saylor to commemorate the conclusion of the Gordianus the Finder series.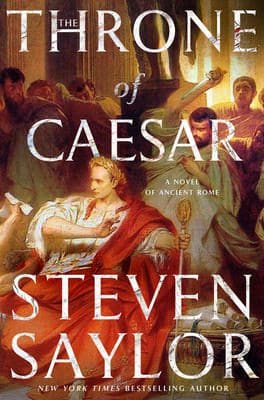 Here's the summary of The Throne of Caesar.
"What a marvel!…Saylor's masterful storytelling puts you right there, wonderstruck and wide-eyed. Deliciously immersive, captivating entertainment from a justly celebrated writer." —Margaret George

In The Throne of Caesar, award-winning mystery author Steven Saylor turns to the most famous murder in history:It's Rome, 44 B.C., and the Ides of March are approaching.
Julius Caesar, appointed dictator for life by the Roman Senate, has pardoned his remaining enemies and rewarded his friends. Now Caesar is preparing to leave Rome with his legions to wage a war of conquest against the Parthian Empire. But he has a few more things to do before he goes.
Gordianus the Finder, after decades of investigating crimes and murders involving the powerful, has been raised to Equestrian rank and has firmly and finally decided to retire. But on the morning of March 10th, he's first summoned to meet with Cicero and then with Caesar himself. Both have the same request of Gordianus—keep your ear to the ground, ask around, and find out if there are any conspiracies against Caesar's life. And Caesar has one other matter of vital importance to discuss.Gordianus's adopted son Meto has long been one of Caesar's closest confidants. To honor Meto, Caesar plans to bestow on Gordianus an honor which will change not only his life but the destiny of his entire family. It will happen when the Senate next convenes on the 15th of March.
Gordianus must dust off his old skills and see what plots against Julius Caesar, if any, he can uncover. But more than one conspiracy is afoot. The Ides of March is fast approaching and at least one murder is inevitable.