Have you met Alan Bradley's amateur sleuth, Flavia de Luce? She'll be back at the end of the month in The Grave's a Fine and Private Place. You can pre-order a copy through the Web Store. https://bit.ly/2DMohTW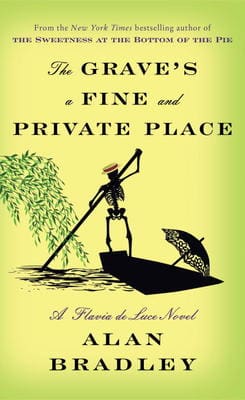 Here's the summary of the new book.
"The world's greatest adolescent British chemist/busybody/sleuth" (The Seattle Times), Flavia de Luce, returns in a twisty new mystery novel from award-winning and New York Times bestselling author Alan Bradley.
In the wake of an unthinkable family tragedy, twelve-year-old Flavia de Luce is struggling to fill her empty days. For a needed escape, Dogger, the loyal family servant, suggests a boating trip for Flavia and her two older sisters. As their punt drifts past the church where a notorious vicar had recently dispatched three of his female parishioners by spiking their communion wine with cyanide, Flavia, an expert chemist with a passion for poisons, is ecstatic. Suddenly something grazes her fingers as she dangles them in the water. She clamps down on the object, imagining herself Ernest Hemingway battling a marlin, and pulls up what she expects will be a giant fish. But in Flavia's grip is something far better: a human head, attached to a human body. If anything could take Flavia's mind off sorrow, it is solving a murder—although one that may lead the young sleuth to an early grave.
Advance praise for The Grave's a Fine and Private Place
"Outstanding . . . As usual, Bradley makes his improbable series conceit work and relieves the plot's inherent darkness with clever humor."—Publishers Weekly (starred review)
"There's only one Flavia. . . . Series fans will anticipate the details of this investigation, along with one last taste of Flavia's unorthodox family life."—Library Journal (starred review)
"Bradley's unquenchable heroine brings "˜the most complicated case I had ever come across' to a highly satisfying conclusion, with the promise of still brighter days ahead."—Kirkus Reviews
Acclaim for Alan Bradley's beloved Flavia de Luce novels, winners of the Crime Writers' Association Debut Dagger Award, Barry Award, Agatha Award, Macavity Award, Dilys Award, and Arthur Ellis Award
"If ever there were a sleuth who's bold, brilliant, and, yes, adorable, it's Flavia de Luce."—USA Today
"Delightful . . . a combination of Eloise and Sherlock Holmes."—The Boston Globe
"[Flavia] is as addictive as dark chocolate."—Daily Mail
*****
If you're not yet convinced that you should try Flavia's stories, Alexis Gunderson has a piece called "Why Adults and Kids Should Read the Flavia de Luce Series by Alan Bradley." Here's the link to her article in Paste Magazine. https://bit.ly/2DLmjmA