USA Today picked Michael Connelly's Two Kinds of Truth as the hottest book of the week. Author Joe Ide will host Connelly on Thursday, Nov. 2 at 7 PM at Doubletree Resort Hilton Paradise Valley. Call the bookstore for details. Phone:(480) 947-2974,
Toll Free: (888) 560-9919. You can order a signed copy through the Web Store. https://bit.ly/2hsl41A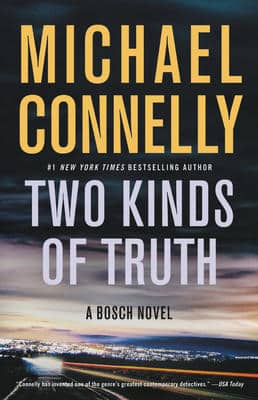 Here's what Jocelyn McClung said in USA Today.
1. Two Kinds of Truth by Michael Connelly (Little, Brown, fiction, on sale Oct. 31)
What it's about: In Connelly's 20th Harry Bosch book, the detective gets pulled into a prescription drug case while volunteering for the San Fernando police force; meanwhile an imprisoned killer from Bosch's LAPD days claims the cop framed him.
The buzz: Connelly had a No. 1 USA TODAY best seller in July with The Late Show, in which he introduced a new character, Det. Renée Ballard.