From Halloween to Christmas. It's not difficult to find books relating to the holidays. In fact, Soho Crime has the book that will be The Poisoned Pen's December Fresh Fiction Club Pick, the collection The Usual Santas. It's already available to order through the Web Store. https://bit.ly/2gE02zW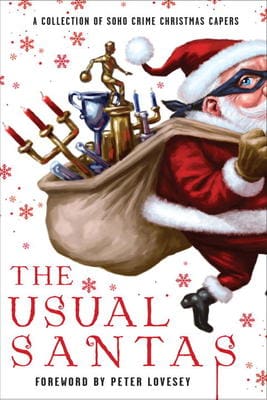 Here's the description.
Finally: the perfect stocking stuffer for the crime fiction lover in your life! With a foreword by CWA Diamond Award-winner Peter Lovesey, these eighteen delightful holiday stories by your favorite Soho Crime authors contain laughs, murders, and plenty more.

This captivating collection, which features bestselling and award-winning authors, contains laughs aplenty, the most hardboiled of holiday noir, and heartwarming  reminders of the spirit of the season.
Nine mall Santas must find the imposter among them. An elderly lady seeks peace from her murderously loud neighbors at Christmastime. A young woman receives a mysterious invitation to Christmas dinner with a stranger. Niccolò Machiavelli sets out to save an Italian city. Sherlock Holmes's one-time nemesis Irene Adler finds herself in an unexpected tangle in Paris while on a routine espionage assignment. Jane Austen searches for the Dowager Duchess of Wilborough's stolen diamonds. These and other adventures in this delectable volume will whisk readers away to Christmases around the globe, from a Korean War POW camp to a Copenhagen refugee squat, from a palatial hotel in 1920s Bombay to a crumbling mansion in Havana.
Includes Stories By (In Order of Appearance):
Helene Tursten, Mick Herron, Martin Limón, Timothy Hallinan, Teresa Dovalpage, Mette Ivie Harrison, Colin Cotterill, Ed Lin, Stuart Neville, Tod Goldberg, Henry Chang, James R. Benn, Lene Kaaberbøl & Agnete Friis, Sujata Massey, Gary Corby, Cara Black, Stephanie Barron and a Foreword and story by Peter Lovesey.