John Sandford appears at The Poisoned Pen on Tuesday, Oct. 17 at 7 PM. Sandford brings back Virgil Flowers in Deep Freeze, reviewed by Marilyn Stasio in her recent New York Times column, "The Latest in Crime Novels: Bad Mothers, Bad Memories and Bad Sex Toys", https://nyti.ms/2hDYYss.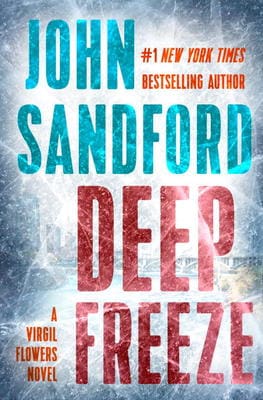 Here's the summary from the Web Store, where you can buy a signed copy that comes with a custom designed magnet of the high school crest from the book. https://bit.ly/2wSdJhL
Class reunions: a time for memories—good, bad, and, as Virgil Flowers is about to find out, deadly—in the thrilling new novel in the #1 New York Times-bestselling series.
Virgil knows the town of Trippton, Minnesota, a little too well. A few years back, he investigated the corrupt—and as it turned out, homicidal—local school board, and now the town's back in view with more alarming news: A woman's been found dead, frozen in a block of ice. There's a possibility that it might be connected to a high school class of twenty years ago that has a mid-winter reunion coming up, and so, wrapping his coat a little tighter, Virgil begins to dig into twenty years' worth of traumas, feuds, and bad blood. In the process, one thing becomes increasingly clear to him. It's true what they say: High school is murder