This week, The Poisoned Pen features a historical mystery as Hot Book of the Week. Will Thomas' latest Barker and Llewelyn novel, Old Scores, is this week's pick. Signed copies are available through the Web Store. https://bit.ly/2fSYOwH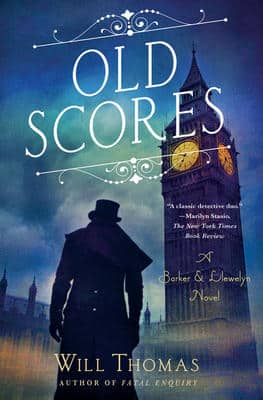 Here's the summary of Old Scores.
In 1890, the first Japanese diplomatic delegation arrives in London to open an embassy. Cyrus Barker, private enquiry agent and occasional agent for the Foreign Service Office, is enlisted to display his personal Japanese garden to the visiting dignitaries.
Later that night, Ambassador Toda is shot and killed in his office and Cyrus Barker is discovered across the street, watching the very same office, in possession of a revolver with one spent cartridge.
Arrested by the Special Branch for the crime, Barker is vigorously interrogated and finally released due to the intervention of his assistant, Thomas Llewelyn, and his solicitor. With the London constabulary still convinced of his guilt, Barker is hired by the new Japanese ambassador to find the real murderer.
In a case that takes leads Barker and Llewelyn deep into parts of London's underworld, on paths that lead deep into Barker's own mysterious personal history, Old Scores is the finest yet in Will Thomas's critically acclaimed series.