The summary in the Web Store beautifully introduces Stephen Weeks' novel The Countess of Prague. It says, "The Countess of Prague is the wonderfully exciting introduction to Beatrice von Falklenburg, known to her intimates as Trixie, who will lead us from Prague through Europe and occasionally beyond on a ten-book set of investigations that begins in 1904 and finishes in 1914." (You can order a signed copy here. https://bit.ly/2gPt2Vl )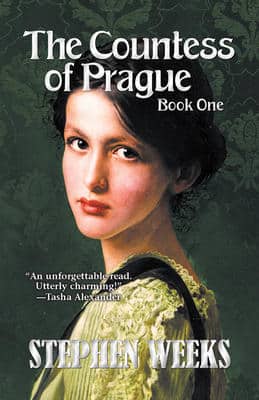 Stephen Weeks wrote a piece that gives some background.
WRITING THE COUNTESS
by Stephen Weeks
I moved to Prague in 2003. I was drawn to it not only as a "˜romantic' city (ie by the broad river, the high Castle and the baroque houses and churches) but also because for 40 years up to the end of 1989 the place had been allowed to decay and fall apart under the iron fist of Communism. When I had first visited Prague in 1995 there were only about 8 proper restaurants in the City, and they closed at 9pm "" or were empty but mysteriously "˜fully booked'. In the rest of the country, the Czech Republic, were more than 600 derelict castles…
Being also a castle restorer, as well as a writer and film-maker, I was intrigued. I was asked to restore all the interiors of a princely palace some 30 miles from Prague, and the owners were surprised that I intended to replicate all the servants' rooms and special corridors "" to show how they lived and worked alongside their masters. After all, there were more servants living in grand houses and castles than aristocratic family members. When this country palace did open to the public, as a heritage attraction, the public flocked to it. The State Castles "" those confiscated by the State and opened as museums "" never mentioned servants, missing, I would have thought, a great opportunity for some socialist propaganda. Eventually I found out why: when the Communists took over the country in 1948, they rounded up all the senior servants (having already imprisoned or sent down coal or uranium mines those land/castle owners who'd been foolish enough not to flee) and they asked them what it was like to toil for those wicked masters. "˜Quite good,' many replied, citing the good company, the wonderful environment of a fully-furnished mansion or castle, not to mention the schools and hospitals often erected on the estates at the noblemen's expense… So it was down the mines too with butlers and major-domos "" and orders issued to the State Castles not to mention servants!
One might restore buildings, but they needed peopling… and that I could do by writing. I've said a lot about servants, for sharing one's life with servants is the defining difference between our lives of today and those of, say, pre-1939. That is, all of history to 1939. The labour shortage after the millions killed in WWII led to the invention of the domestic washing machine, then the dishwasher "" and the idea that you didn't need an employee to push a Hoover around, you could do it yourself!
But what about The Countess herself? I started early making "" ie directing "" films. I was scouting for locations when I was 23 and ended up at an amazing palace in Scotland. The Marquess of Bute had the archetypal butler, who'd been with the family for over 40 years… his name was Buick, who carried a bottle of tonic water to me as if it were a vintage wine, label tilted for me to read (and it wasn't Schweppes but the local supermarket brand!). The house itself had endlessly long corridors, a tall gothic chapel in white marble, staircases with carved gargoyles… I was dizzy with it all. When summer came, I devoted several months to scouring Britain for a castle that (a) attracted me, and (b) I could afford by selling the little 2-up and 2-down house I'd bought in Fulham in London a couple of years before. I found a 12th century castle in Wales, mostly ruined "" and, full of youthful confidence and ignorance, set about restoring it. There were the usual difficult times, such as waking up one morning with frost on the bedclothes when the roof was being mended, but it all worked out and visitors really enjoyed the growing collection of curiosities with which I filled it. I lived there for 25 years, selling it to move to Prague for the second huge adventure in my life.
But owning a castle in Britain meant that I was approached by the Historic Houses Association, a body of owners of mostly far greater and wealthier castles and palaces than mine. I soon found myself on various committees of this august organisation, sometimes the only member without a title (I am from a humble background). Once the minutes of a meeting were sent to me… Lord this, the Duke of that "" and at the bottom (it was in alphabetical order) Lord Weeks. The typist has obviously concluded that the committee secretary must have simply forgotten my title.
For some years I worked (this was a voluntary body) with a charming Marchioness who owned a country house (as we call houses like the fictional Downton Abbey) in rolling Welsh countryside, amidst a working forestry and agricultural estate which could produce enough income to fix "" then gloriously restore "" the crumbling old mansion. She was brave, independent (going through a divorce when I met her) and, when she'd been 28, the perfect model for my Countess "" although at that stage she hadn't even been dreamed of. In Prague I came across an English lady (daughter of a lord) who had moved there during Communism to be with the man she'd fallen in love with. Despite being the model for Socialist hatred, the Secret Police left her alone "" they thought anyone coming to Communist Czechoslovakia must be mad, rather than bad! The third inspiration for The Countess is this lady's daughter, simply because she has all the charm and spunk of her mother, but she was then the right age for my heroine.
Visiting large numbers of country houses thanks to the HHA, sometimes staying as a house guest or going shooting on their estates (don't worry, I didn't kill anything) I got to know the aristocratic way of life "" with its phlegmatic ease yet socially responsible, leavened by good humour "" and to know that at one time it was spread throughout Europe. The so-called Belle Epoque was an idyllic time before the First World War "" and all that happened as a result of it "" killed it off. But in my imagination, Trixie lives… and with her the whole world she inhabits, which I hope I bring to life so that you might travel back with me yourselves to those years bathed in a golden sheen…
© Stephen Weeks 2017