Now's the time to order Martin Edwards' The Story of Classic Crime in 100 Books. https://bit.ly/2u0TCfF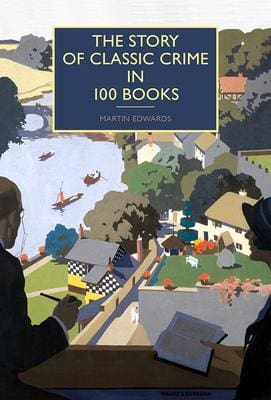 Here's the summary.
This book tells the story of crime fiction published during the first half of the twentieth century. The diversity of this much-loved genre is breathtaking, and so much greater than many critics have suggested. To illustrate this, the leading expert on classic crime discusses one hundred books ranging from The Hound of the Baskervilles to Strangers on a Train which highlight the entertaining plots, the literary achievements, and the social significance of vintage crime fiction. This book serves as a companion to the acclaimed British Library Crime Classics series but it tells a very diverse story. It presents the development of crime fiction-from Sherlock Holmes to the end of the golden age-in an accessible, informative and engaging style.
Readers who enjoy classic crime will make fascinating discoveries and learn about forgotten gems as well as bestselling authors. Even the most widely read connoisseurs will find books (and trivia) with which they are unfamiliar-as well as unexpected choices to debate. Classic crime is a richly varied and deeply pleasurable genre that is enjoying a world-wide renaissance as dozens of neglected novels and stories are resurrected for modern readers to enjoy. The overriding aim of this book is to provide a launch point that enables readers to embark on their own voyages of discovery.
*****
And, here are some of the reviews.
"Written as a companion to the British Library's Crime Classics series of reprints, this descriptive critical catalogue of 100 crime and mystery novels (mostly British) published in the first half of the 20th century is irresistible for aficionados and a reliable reading list for newcomers. Edwards' picks, most published during detective fiction's golden age between the two world wars, range chronologically from Doyle's The Hound of the Baskervilles (1902) to Julian Symons's The 31st of February (1950) and include, in addition to many of the usual suspects, a few outliers sure to enliven debates among diehard fans. He groups his selections into 24 chapters that cover numerous aspects of the literature—the great detectives, the fair-play mystery (epitomized by Ronald Knox's The Body in the Silo), the miraculous or locked-room mystery (a specialty of John Dickson Carr), country house and manor murder mysteries, and so on—and whose ordering shows classic tropes giving way to newer approaches more resonant with modern times. A crime novelist in his own right, Edwards (The Golden Age of Murder) brings a specialist's discerning eye to discussions of each book's significance, and without giving away key plot points. This is an exemplary reference book sure to lead readers to gems of mystery and detective fiction."
Publishers' Weekly (starred review)
"A fascinating guide."
Roland White, The Sunday Times
""Erudite, but accessible and never less than very readable. It's thought provoking too and I reappraised some books which I'd previously dismissed. I'd normally expect that a book like this would be read over a week or more, but I was surprised that I found myself succumbing to the 'just another chapter' syndrome and I read right through in little more than a couple of days."
Susan Magee, Bookbag
"Martin Edwards…has had the neat idea of producing a sort of extended menu of murderous treats for those for whom no library is complete without a pile of corpses beside the French windows…nothing if not encyclopaedic…You're not elected both Chair of the Crime Writers' Association and President of the Detection Club without knowing where 10,000 bodies are buried, who murdered each of them, and why. No-one could doubt the extent of Edwards' knowledge. He writes about countryside murders, holiday murders, shooting-party murders and murders by serial killers with equal expertise."
Craig Brown, Mail on Sunday
"I found many old friends here, but also fascinating writers and books new to me. It was a great pleasure reading it and I know I'll be hunting out some of the books described here for years to come. The Story of Classic Crime in 100 Books deserves a home on the shelf of every aficionado of golden age crime."
A Reading Life blog
"A brilliant book, with great content, but also lovely design (the picture segment filled with dust jackets was wonderful)…a must have read for all classic crime aficionados, a book you can read from cover to cover (with laptop nearby for all those important google searches) or alternatively dip in to, to discover a new author or title."
Crossexamining Crime blog
"The all-conquering success of his massively enjoyable Golden Age of Murder must have created a problem for the writer Martin Edwards (currently chair of the Crime Writers Association): how to follow a book which appeared to write the last word on a great era of crime fiction? Well, the multi-talented Edwards (who is no mean practitioner of the crime novel himself) has produced another volume which will be catnip to admirers of the genre "" not to mention a shopping list of novels which is going to have aficionados repeatedly reaching into their pockets. The approach in The Story of Classic Crime in 100 Books is to take books which (in Edwards' view) illuminate and epitomise the field. And as added value, Edwards sets his choices within pithily written introductions to the variety of areas in which the books operate (e.g., the justice system and 'Murder at the Manor'). While most of the classic novels and writers one might expect are here, the real pleasure lies in the eclectic choice of books discussed. Now forgotten names abound, and Edwards' enthusiasm always communicates itself (though it never slips into unqualified encomiums — he is quick to point out when certain writers' social attitudes would not work in modern crime fiction "" though, as he says, we are given inter alia key insight into these eras). If you have the slightest interest in the British golden age of crime fiction, The Story of Classic Crime in 100 Books is an essential purchase."
Barry Forshaw, Crime Time
*****
You might want to order a copy!