I know it's a month off. T. Jefferson Parker will be at The Poisoned Pen on Thursday, Aug. 31 at 7 PM, joining William Kent Krueger. Parker will be here to discuss and sign his new book, The Room of White Fire. You can pre-order a signed copy now. https://bit.ly/2tY0cYl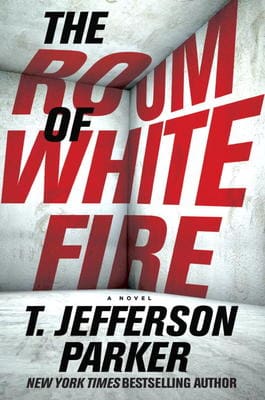 Here's the summary.
For fans of Michael Connelly and C. J. Box: a stirring thriller from New York Times bestseller and award winner T. Jefferson Parker. In The Room of White Fire, a P.I. must hunt down a soldier who is damaged by war, dangerous, and on the run.
A young soldier escaped from a mental institution.
A P.I. carrying his own wounds hired to track that soldier down.
A race against the clock to bring the soldier home before he reveals the secret that haunts him.
Roland Ford—once a cop, then a marine, now a private investigator—is good at finding people. But when he's asked to locate Air Force veteran Clay Hickman, he realizes he's been drawn into something deep and dark. He knows war, having served as a Marine in first Fallujah; he also knows personal pain, as only two years have passed since his wife, Justine, died. What he doesn't know is why a shroud of secrecy hangs over the disappearance of Clay Hickman—and why he's getting a different story from everyone involved.
To begin with, there's Sequoia, the teenage woman who helped Clay escape; she's smart enough to fend off Ford's questions but impetuous enough to be on the run with an armed man. Then there's Paige Hulet, Clay's doctor, who clearly cares deeply for his welfare but is impossible to read, even as she inspires in Ford the first desire he has felt since his wife's death. And there's Briggs Spencer, the proprietor of the mental institution who is as enigmatic as he is brash, and ambitious to the point of being ruthless. What could Clay possibly know to make this search so desperate?
What began as just a job becomes a life-or-death obsession for Ford, pitting him against immensely powerful and treacherous people and forcing him to contend with chilling questions about truth, justice, and the American way.
*****
Why am I mentioning this so early? Parker had a terrific piece on CriminalElement.com. It's called "My Favorite Crime Novels and Movies". https://bit.ly/2tXsbYt  It's a piece to make you check off your own favorites. And, if it sends you to the Web Store to order a crime novel or two, that's okay with us. https://store.poisonedpen.com/
And, mark down August 31 on your calendar. Maybe you can ask T. Jefferson Parker about some of his choices.