Gin Phillips, author of Fierce Kingdom, will be at The Poisoned Pen on Wednesday, Aug. 2 at 7 PM. You can pre-order a signed copy through the Web Store. https://bit.ly/2tPrjRf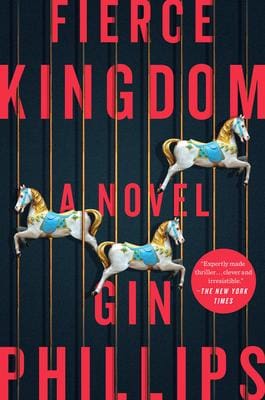 Here's the description of the book.
"Expertly made thriller . . . clever and irresistible." —The New York Times
An electrifying novel about the primal and unyielding bond between a mother and her son, and the lengths she'll go to protect him.
The zoo is nearly empty as Joan and her four-year-old son soak up the last few moments of playtime. They are happy, and the day has been close to perfect. But what Joan sees as she hustles her son toward the exit gate minutes before closing time sends her sprinting back into the zoo, her child in her arms. And for the next three hours—the entire scope of the novel—she keeps on running.
Joan's intimate knowledge of her son and of the zoo itself—the hidden pathways and under-renovation exhibits, the best spots on the carousel and overstocked snack machines—is all that keeps them a step ahead of danger.
A masterful thrill ride and an exploration of motherhood itself—from its tender moments of grace to its savage power—Fierce Kingdom asks where the boundary is between our animal instinct to survive and our human duty to protect one another. For whom should a mother risk her life?
*****
Curious? Jennifer Senior discussed Fierce Kingdom in her article in "Books of the Times" for The New York Times. Check out "Hunted at the Zoo in Fierce Kingdom". https://nyti.ms/2uEtHO0