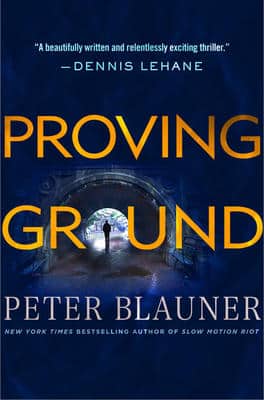 When Peter Blauner was at The Poisoned Pen on book tour for Proving Ground, I didn't have the chance to share the Livestream event. Patrick Millikin interviewed him. You might want to check out the video. https://livestream.com/poisonedpen/events/7348075
Here's the description of the book.
A must read. I couldn't put the sucker down." – Stephen King
Nathaniel Dresden never really got along with his father, an infamous civil rights lawyer who defended criminals and spearheaded protest movements. As an act of rebellion, Natty joined the U.S. Army and served in Iraq, coming back with a chest full of commendations and a head full of disturbing memories.
But when his father is found murdered near the peaceful confines of Brooklyn's Prospect Park, Natty is forced to deal with the troubled legacy of their unresolved relationship. He also has to fend off the growing suspicions of NYPD Detective Lourdes Robles, a brash Latina cop with something to prove, who thinks Natty might bear some responsibility for his father's death. Though truth be told, the list of people – cops and criminals – who wanted David Dresden out of the way is long. The search for answers leads Natty and Lourdes into an urban labyrinth where they must confront each other – and the brutal truths that could destroy them both.
Proving Ground, New York Times bestseller and Edgar Award winner Peter Blauner's first novel in more than a decade, is a sweeping crime novel, an intricate story about the quest for redemption, and a vibrant portrait of contemporary New York City, all told in Blauner's singular voice.
If you'd like to order a signed copy, it's available through the Web Store. https://bit.ly/2sje6iF