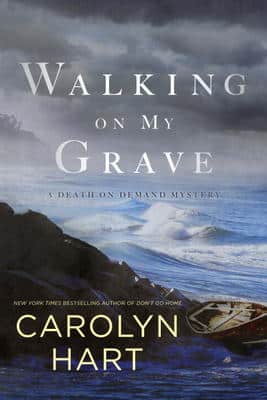 Carolyn Hart's note to Barbara Peters, owner of The Poisoned Pen, indicates that the author is closing out the Death on Demand mystery series with Walking on My Grave.
"From Death on Demand to Walking on my Grave, I've loved spending time with
Annie and Max on their sea island. Walking on my Grave is their last
adventure and I will leave them as I found them, young, happy, always there
for each other. My thanks to the wonderful readers who welcomed them. It's
been fun."
Here's the summary of that final book.
In the latest Death on Demand Mystery from the New York Times bestselling author of Don't Go Home, book seller Annie Darling learns murder and money go hand in hand…
Annie's friend and fellow shop owner Ves Roundtree is a very wealthy woman. Her rich brother entrusted her with his estate, and upon her death, his fortune is to be divided. Several cash-strapped islanders are in line to collect life-changing inheritances. The problem is, Ves is very much alive.
Ves hosts a dinner for the prospective beneficiaries and feels a chill in the air that has nothing to do with the wintry season. Not long after, she suffers a bad fall that was no accident. Everyone at the table had a motive but not a shred of evidence was left behind.
When one of the suspects is found floating in the harbor and Ves disappears, Annie and her husband Max spring into action to catch a calculating killer before greed takes another life.
*****
The Poisoned Pen has signed copies of the last Death on Demand book, Walking on My Grave. Check the Web Store. https://bit.ly/2pcRS0p