Because Paige Shelton is a Phoenix-area author, I couldn't resist a preview of her February mystery, Bookman Dead Style. After you read the written preview, you'll want to watch a fun one.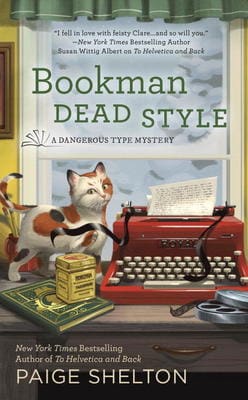 First, here's the blurb from the Web Store. "A movie star is typecast as a killer in the second Dangerous Type Mystery from the New York Times bestselling author of To Helvetica and Back.
It's January, and the Star City Film Festival has taken the Utah ski resort town by storm. Movie stars are everywhere, carving fresh powder on the slopes and crossing the thresholds of Bygone Alley's charming boutique shops—including The Rescued Word, where Clare Henry and her grandfather restore old typewriters and beloved books. When cinema's hottest superhero, Matt Bane, enters their store to buy some personalized notecards, it's hard not to be starstruck.
But when Clare sees the police leading Matt out of The Fountain hotel in handcuffs only a few hours later, she can't believe her eyes. The affable actor is accused of killing his sister, but Clare's convinced he's wrong for that role. Now it's open call for suspects as Clare tries to reel in the killer before another victim fades to black…"
Now that you've read the summary, here's the link to Adam Wagner's fun .Gifnotes on Criminal Element, https://bit.ly/2jAZABt. It's a visual summary of Shelton's book.
My only request? If you enjoyed the .Gifnotes and want to order the book, ignore the links at the bottom of their page. Look for Bookman Dead Style in our Web Store. https://bit.ly/2iTwywx