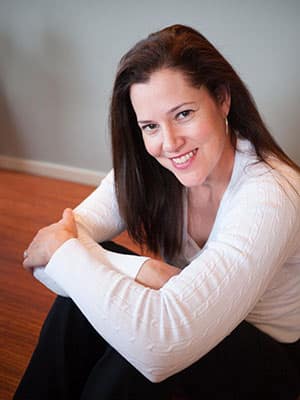 Ingrid Thoft will be here at The Poisoned Pen on Wednesday, January 11 at 7 PM. She's appearing with Brad Taylor (Ring of Fire) and Nicholas Petrie (Burning Bright). Ingrid will be signing and talking about her latest Fina Ludlow mystery, Duplicity.
Ingrid is familiar with The Poisoned Pen. She appeared here with her second book, Identity.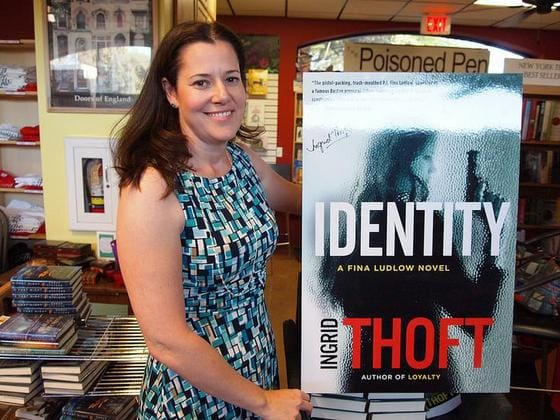 She's been interviewed by an expert, Barbara Peters, owner of The Poisoned Pen.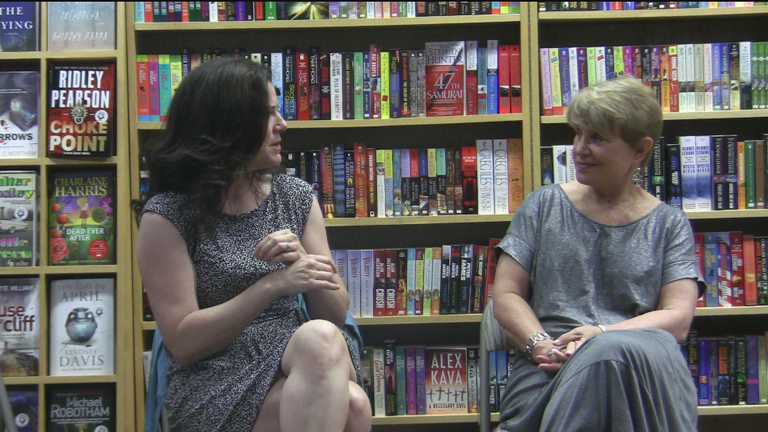 But, Ingrid did agree to an interview for In the Hot Seat. Thank you, Ingrid.
Ingrid, would you introduce yourself to readers?
I was born in Boston and graduated from Wellesley College, and DUPLICITY is the fourth book in my series featuring Fina Ludlow, a private investigator in Boston.  Fina gets most of her cases from the Ludlow family law firm, Ludlow and Associates.  The Ludlows are personal injury attorneys—rich and successful, but not universally well-liked.
I live in Seattle, but have also called Pittsburgh, New York City, London, and L.A. home.  When I'm not writing or reading, I love to scuba dive, snorkel, and eat good food, activities that I find are best enjoyed in exotic locations!  Some of my more memorable destinations include Vietnam, China, Australia, Spain, and Hawaii.
Tell us about Fina Ludlow and her family.
Fina is strong, funny, and flawed, and she pushes the limits.  She's an excellent investigator and has a complicated relationship with her family.  Like many readers, I was fascinated by the Lisbeth Salander character in the Stieg Larsson books.  Lisbeth is strong, brash, and violent, and operates outside of society's norms.  That character was born of abuse and neglect and didn't have a "normal" family.  I wondered what would happen if I created a character who was headstrong and independent, but came from a domineering family unit and had to operate within the bounds of that family.  If you have nothing holding you back and nothing to lose—like Lisbeth Salander—your actions can be extreme.  However, if you're trying to operate within a family system and maintain your standing in that family, you have more to lose, and the stakes can be quite high.
Carl Ludlow is the patriarch of the family and oversees the family law firm.  Fina has a complex relationship with her father, and her interactions with her mother, Elaine, are fraught with resentment and bad feelings on both sides.  Fina's brothers, Scotty and Rand, are her closest friends, but her eldest brother, Rand, is her nemesis and the source of much of the Ludlow family dysfunction.  I'll leave it at that for readers who starting the series at the beginning with LOYALTY, but rest assured, there's plenty of family drama.
Without spoilers, tell us about DUPLICITY.
DUPLICITY features a slightly different kind of case for Fina:  Her father has asked her to investigate an evangelical church as a favor to an old friend, Ceci Renard.  Lead by a charismatic pastor and his wife, the church seems to have tremendous influence over its congregants, one of whom is Ceci's daughter.  Fina tries to dig into the church's practices and finances, only to be thwarted at every turn, and the situation grows more serious when a congregant turns up dead.  The investigation raises questions about faith and power, and Fina is forced to contemplate these concepts within the context of her own life and family.
Why did you want to write crime novels?
I love to read crime novels, which is why I wanted to write them.  People often say, "Write what you know," but I've always said, "Write what you want to read."  It takes a lot of time and effort to write a book, and as the author, you are your first reader.  If you aren't engaged then how can you expect other readers to be? 
Fina's a P.I. and you graduated from a certificate program in private investigation.  Tell us about a few aspects of that program that you've used in Fina's cases.
I sought out the private investigation certificate program at the University of Washington when I made the decision to create a character who is a professional investigator rather than an amateur detective. This decision was based on the limitations I encountered in an unpublished series I had already written featuring an amateur sleuth.  Over time, I found her amateur status to be problematic; an amateur can only stumble over so many bodies before it strains credulity!  So I made the main character a professional investigator, which opened up a lot of possibilities and gives me options as the series progresses.
Having made that choice, I wanted to learn the rules of private investigation before I created a character who broke them.  Fina needed to ring true and use tactics and procedures that PIs actually use.  She takes liberties with the law, and some of her tactics might be frowned upon by other PIs, but her actions are purposeful, not the result of poor training.  When creating the character, I made conscious decisions about her choices based on what I gleaned from the certificate program.
I learned a lot of practical information in terms of detection that Fina employs, like how to mine information from public records and how to conduct effective interviews, but the thing I was most surprised by was my shifting attitudes toward personal injury attorneys.  One of my instructors did a lot of work for the kinds of attorneys who advertise on TV, like Carl Ludlow, and I learned that in certain circumstances, those attorneys are the only thing saving victims from financial ruin.  Perhaps a single mom is injured in a car accident that wasn't her fault, but if she doesn't have health insurance or other safety nets, the dominos in her life can quickly fall.  Maybe she misses work to go to physical therapy, but then she can't pay for day care, and then she loses her job, but has no one to watch her kids when she looks for a new job, and what about all those doctors' bills?  Many of us are lucky enough to have layers of support that keep us from the brink—both financially and emotionally.  For people who don't have that, personal injury lawyers can be lifesavers.
Why do you see Boston as the perfect setting for crime novels?
Boston offers myriad opportunities for creating layered, interesting characters who inhabit various mini worlds.  There are so many world-class things about the city: its medical facilities, higher education, the arts, professional sports teams, as well as a strong sense of pride and history that shows up in things like the multiple generations of families who serve in the police and fire departments.  People from all over the world come to Boston, and on any given day a visitor could be seen by a specialist in a top-notch hospital or watch a baseball game sitting above the Green Monster.  I wanted Fina's adventures to reflect that diversity.  She may spend time interviewing a potential client in the ICU at Mass General or visiting the Isabella Stewart Gardner Museum, but you'll also find her at Kelly's Roast Beef on the beach eating fried clams and a lobster roll.  It's fun for me and readers to ride along with her as she dips into the various sub-cultures of the city.
What authors have influenced you?
I always cite the Nancy Drew books as an early influence.  More contemporary influences are the late Robert Parker, Sue Grafton, Sara Paretsky, Laura Lippman, Reed Farrel Coleman, Ace Atkins, C.J. Box, David Joy, and Chevy Stevens.
Other than your own, name a couple of books you would never part with.
My Nancy Drews, of course, but quite honestly, I part with most books.  If they are signed by the author, they become a part of my permanent collection, but I love passing books on to others.  In general, I don't tend to re-read things, and I love the idea of someone else getting pleasure from a book that I found entertaining or thought-provoking.
What author would you like to recommend who you think has been underappreciated?
I'm a big fan of Archer Mayor and his Joe Gunther series.  In the early books, Joe was a detective in Brattleboro, VT and is now the head of the Vermont Bureau of Investigation.  The books feature a motley crew of investigators and offer a real sense of place.  I especially enjoy reading the installments that are set in winter, with a cup of cocoa while curled under a blanket, of course!
What's on your TBR pile?
So many books! Today Will Be Different by Maria Semple, The Wrong Side of Goodbye by Michael Connelly, and Evicted by Matthew Desmond.  I have ARCs for The Weight of This World by David Joy and Never Let You Go by Chevy Stevens and need to get my hands on What You Break, the new Gus Murphy book by Reed Farrel Coleman.  I'm planning to reread a Victorian novel that I read in college and remember loving, New Grub Street, by George Gissing.  It's about the British publishing industry and should provide an interesting change of pace.  Also, The Warmth of Other Suns by Isabel Wilkerson.  It's a non-fiction account of the migration of black citizens to the northern and western parts of the U.S. in the early and mid-1900s.  My mom loved it and thinks it should be on every American's TBR list.
Thank you, Ingrid, for taking time for the interview.
I hope you'll be able to make it to The Pen on January 11th to hear and meet Ingrid and the other authors. But, if you can't make it, you can order a signed copy of Duplicity through the Web Store. https://bit.ly/2hWpyLo