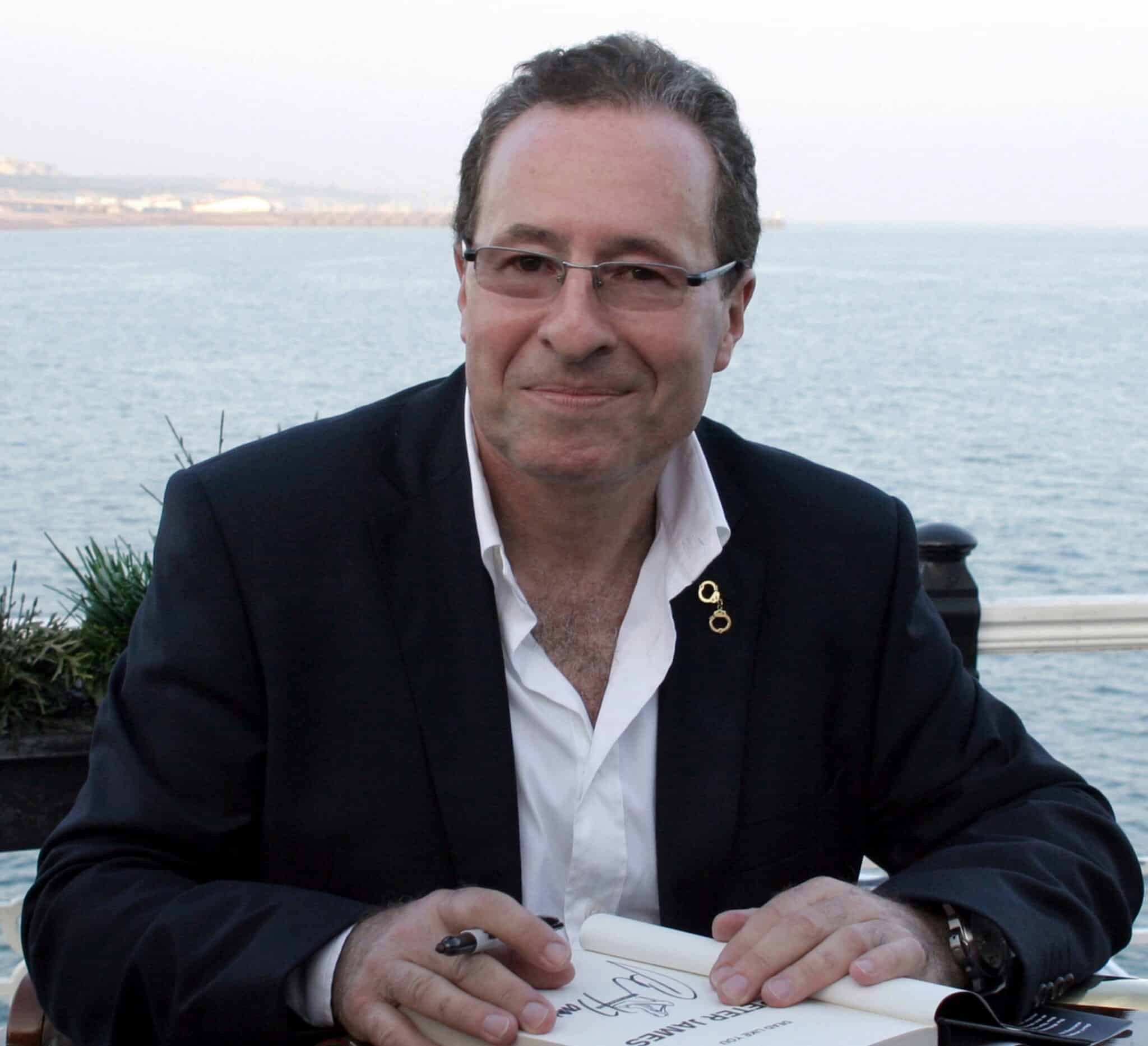 Peter James is the New York Times bestselling author of the DS Roy Grace series of crime thrillers which have sold over 18 million copies. Peter is the UK's biggest selling police procedural author, with 11 consecutive books appearing at number one on the Sunday Times, as well as being a No 1 bestseller in many countries around the globe, where he is published in 37 languages in 52 countries. His latest book is Love You Dead. James was kind enough to answer questions for In the Hot Seat.
Peter, please tell us about Roy Grace.
Detective Superintendent Roy Grace is a senior homicide detective working in Brighton, Sussex, a famous city on the south coast of England that has had a long criminal past.  Back in the 1930s Brighton was known as the Crime Capital of the UK and Murder Capital of Europe.   A title it has never quite lost, luckily for me!  When we first meet him in Dead Simple, he is coming up to his 39th birthday, and we learn that 9 years earlier, on his 30th birthday, his wife, Sandy, whom he loved and adored, vanished without trace.  While he has continued to function as a very effective homicide detective, for almost a decade he has been looking everywhere for her, wondering what happened.  Did she run off with a lover?  Get abducted and killed by a maniac?  Have an accident?  Lose her memory?  Commit suicide somewhere?  He has even tried mediums and clairvoyants, without success.  During the course of the next eleven novels, as Roy moves on into a new relationship, falling in love again, we gradually learn more and more about Sandy, and the truth of what happened to her…
Roy Grace is actually based on a real-life homicide detective:  Fifteen years ago I was introduced to a young Detective Inspector called David Gaylor, a rising star in Sussex CID.  I went into his office and found it full of plastic crates bulging with manila folders.  I asked him he was moving offices and he replied with a sardonic smile:  "No, these are my dead friends."
I thought for some moment that I had met a total weirdo!  Then he explained that in addition to his current homicide investigation work, he had been tasked with reopening cold cases and applying new forensic developments to them.  He said something that really touched me:  "Each of theses crates contains the principal case files of an unsolved murder:  I am the last chance each of the victims has for justice, and I am the last chance each of their families have for closure."
I loved the deeply human aspects of this man.  During his work he saw the most terrible sights imaginable (and unimaginable), yet he retained a calm, gentle humanity "" and this aspect is one of the key characteristics of almost every homicide detective I have met:  They are calm, kind and very caring people.  In very many cases they develop a close relationship with the victim's loved ones, and solving the crime becomes personal to them.  It is the reason why so often, even years after they have from the force, that many detectives still continue to work away on any case they could not solve during their career.
FBI founder, J Edgar Hoover, said:  "No greater honour will ever be bestowed on an officer, nor a more profound duty imposed on him, than when he or she is entrusted with the investigation of the death of a human being."
At this first encounter with DI David Gaylor, he asked me about the novel I was then working on, and immediately started coming up with creative suggestions involving the policing aspects "" and other aspects too.  I realized that to be a good homicide investigator you had to have not only a very analytical mind, but also a very creative one.  This is because the solving of every major crime is a massive puzzle, usually with a key bit missing.  From that day onwards, I would discuss the plots of my next novels in advance with him.
At the time my publishers, Macmillan, approached me to create a fictional detective, David had risen to become Detective Chief Superintendent in Sussex Police, in charge of Major Crime Reviews.  I asked him how he would feel about becoming a fictional character "" and he loved the idea!  He now reads every hundred pages as I am writing, and gives me his view on how a real detective in Roy Grace's position would think.  It helps to give my novels the authenticity I strive so hard for.
Without spoilers, tell us about Love You Dead.
The plot of Love You Dead is this:  An ugly duckling as a child, Jodie Bentley had two dreams in life "" to be beautiful and rich.  She's achieved the first, with a little help from a plastic surgeon, and now she's working hard on the second.  Her philosophy on money is simple:  You can either earn it or marry it.  Marrying is easy, it's getting rid of the husband afterwards that's harder, that takes real skill.  But hey, practice makes perfect…
The novel opens in the smart French ski resort of Courchevel.  Jodie is with her latest catch, financier Walt Klein, who she met while he was drowning his sorrows on Vodka Martinis.  Walt, new to the resort, is looking forward to a day's skiing with Jodie, who knows the resort well, guiding him.  But Jodie has other plans "" rather dark ones, plans which if all goes well, don't include Walt living for many more hours.
The Roy Grace police procedurals are set in Brighton, your hometown. Why is Brighton a good setting for your books?
For me there was only ever one location for Roy Grace to be based….my hometown of Brighton. To the outsider, Brighton is a hip, beautiful seaside city, but it has a long history of darkness – right back to its roots as a smugglers village!  In Regency days it gained a reputation both as a fashionable bathing resort, but in 1841 when the London-Brighton railway line opened, criminals flooded down from London, finding rich pickings and a much nicer environment than their city!  They brought cock-fighting, prostitution, pick-pockets, muggers, smugglers, burglars, and gangs.  Simultaneously, with the railway enabling quick access from London, many wealthy Londoners brought their mistresses down here and it became known as a place for "dirty weekends".
Three consecutive past Chief Constables of Sussex Police have all told me that Brighton is the favoured place in the UK for first division criminals to live in.  The reasons are:  Firstly it has a lot of escape routes, very important to all criminals:  It has the Channel ports, Eurotunnel, and Gatwick Airport just 25 minutes away.  London is only 50 minutes by train.  It has a major seaport on either side "" Shoreham and Newhaven, perfect for importing drugs and exporting stolen cars, antiques and cash.  It has the largest number of antique shops in the UK "" perfect for laundering stolen goods and cash.  For many recent years it held the title the Tourist Board do not like me mentioning: "Injecting Drug Death Capital of England"!  It has a wealthy young population combined with the largest gay community in the UK, providing a big market for recreational drugs.  It has two universities, so a big drug-taking student community.  A huge number of nightclubs and a large transient population.  Very importantly it has not been over-written by other writers.  
You have a background in film and television. Tell us about Peter James TV.
Peter James TV is my new and exciting YouTube channel.  As you mention, I have a long TV and film background and I see just how important it is as a writer, to be visible and accessible. I do numerous talks and events through the year and try to meet as many of my fans as possible.  Peter James TV helps to get in touch and connect with those, and also the many that I don't have the chance to actually meet. I love to be able to share the research and background to my books,  and some of what I'm doing in my life:  Our menagerie of animals "" including five alpacas and soon three emus, my motor racing, behind the scenes footage of my stage plays, along with fun book reviews in bizarre locations (like on a paddle board in the Mediterranean!).
I'm incredibly excited about the most recent addition to the channel, the AUTHORS STUDIO where I have asked over 100 authors the same ten questions (ones that I often get asked) and my viewers get a chance to "˜meet the masters'.  There are some hugely entertaining and varied answers. I am posting each week new authors, some very big names and some lesser known authors. I hope that this new "˜hub' gives readers, published authors and aspiring authors a chance to connect and share ideas and thoughts. It is totally free to subscribe and we are regularly running competitions for subscribers to win signed books, goodie bags and even your name in a future book!
So, here are a few of the type of questions you ask other authors on Peter James TV. What's your favorite book you've written, and why?
My favourite book I have written is probably "˜Dead Simple' as that was the book that launched Roy Grace but also I am hugely proud of my stand alone "˜Perfect People'.
What authors or books have inspired you?
When I was 14 I read Graham Greene's Brighton Rock and this book totally changed my life. It is quite simply the book that made me realize I wanted to be a writer the first time I read it, when I was a teenager.  It is also the inspiration behind my setting the Roy Grace series in Brighton.  
This timeless novel is both a thriller and a crime novel, although police play a small part and the story is almost entirely told through the eyes of the villains and two women who believe they can redeem them.   Greene has a way of describing characters, in just a few sentences, that makes you feel you know them inside out and have probably met them, and his sense of "place" is almost palpable.
It is for me an almost perfect novel.   It has one of the most grabbing opening lines ever written (Hale knew, within thirty minutes of arriving in Brighton, that they meant to kill him.")  , and one of the finest last lines – very clever, very tantalizing and very, very "noir" – yet apt.  Greene captures so vividly the dark, criminal underbelly of Brighton and Hove, as relevant now as when the book was first written, and the characters are wonderful, deeply human, deeply flawed and tragic.  And yet, far more than being just an incredibly tense thriller, Greene uses the novel to explore big themes of religious faith, love and honour."  And additionally, a bonus, It is also unique for being one of the few novels where the film adaptation is so good it complements rather than reduces the book.
Aside from Graham Greene, I've learned a lot from some of the great classical writers "" in particular Thomas Hardy, Charles Dickens, and Scott Fitzgerald.  I read very broadly and very eclectically, There are some fine UK crime writers, whose work I really like, including Ian Rankin, Val McDermid, Brian McGillivray, Anne Cleeves, Stuart McBride and many others, but I tend to read more US writers.  I used to love John D Macdonald's funky Travis McGee series, I was a great fan of Stephen King's early novels, in particular Carrie and The Shining, and I think Ira Levin wrote two of the greatest, darkest books ever written, Rosemary's Baby and The Boys From Brazil.  I like James Ellroy, and I love Elmore Leonard "" he just writes the most fabulous characters.  Two of my favourite crime novels of the past decade or so are Silence Of The Lambs and Michael Connelly's "The Lincoln Lawyer."
Other than your own, name several books you would never part with.
All those I speak about above!
What author would you like to recommend who you think has been underappreciated?
Pierre Lemaitre I read his very haunting crime novel, "˜Alex' a year ago.  Commandant Camille VerhÅ"ven is a wonderfully engaging detective, but what elevates this novel into one of my favourites of all time is the sheer genius of the author in twist after twist, like layers of onion skin peeling away to reveal the ultimate, and hugely satisfying, truth.
Tell us about The Reading Agency.
I hugely support the Reading Agency, which tries to raise the standard of literacy in our nation.  It's a terribly sad statistic that the average reading age in a UK prison is currently equivalent to that of a nine-year-old child.
I give talks to help people with reading difficulties and I also give talks in prisons every year to try to encourage literacy among prisoners.
My brand new Peter James TV YouTube channel: https://www.youtube.com/c/peterjamesPJTV
My website: www.peterjames.com
Facebook: https://www.facebook.com/peterjames.roygrace
Twitter: https://twitter.com/peterjamesuk
Instagram: https://instagram.com/peterjamesuk
Instagram Pets: https://instagram.com/peterjamesukpets
Amazon Author Page: https://www.amazon.com/Peter-James/e/B000APS7L4/ref=sr_tc_2_0?qid=1469738214&sr=8-2-ent
You can order a signed copy of Love You Dead through the Web Store, or you can order Peter James' other books. https://bit.ly/2fflWXc