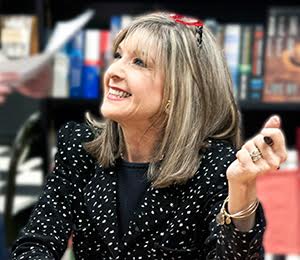 Hank Phillippi Ryan, author of Say No More, will be at The Poisoned Pen on Sunday, November 6 at 2 PM. She'll be joined by Linwood Barclay, author of The Twenty-Three. Hank agreed to answer questions for In the Hot Seat. That was a little intimidating for me, asking questions of an award-winning investigative reporter and author.But, Hank was kind, as always. Thank you, Hank!
Hank, would you start by introducing yourself to the readers?
Hi from Boston—well, no, I'm writing this in the Rochester and Jane suite of Nora Roberts' Boonsboro Inn after signing with her this afternoon! So fabulous.
I live a double life now:  I'm on the air as the investigative reporter for the NBC affiliate in Boston.  I've wired myself with hidden cameras, gone undercover and in disguise, confronted corrupt officials and chased down criminals.   What's your favorite story, you ask? The one that's around the next corner. I've won 33 Emmys for investigative reporting—but 10 years ago, I started, for the first time in my life, to make up stories. And that began my second life–as a  mystery/thriller writer.
I grew up in really rural Indiana, and binge-read Sherlock Holmes and Hercule Poirot and Nancy Drew—then all the Golden Age mysteries (and had a crush on Lord Wimsey)–and then got hooked on cold war thrillers, Fail Safe and  Seven Days in May.  Way back then, I decided I wanted to be a mystery author. Or a detective. Now I've turned out to be a little of each.
Write the kind of books you love to read, they say—so I do. Fast-paced, high-tension investigative novels of suspense.  Library Journal has said "Ryan has a gift for writing superb thrillers." Hurray.
I'm a terrible singer, a pretty great cook, married to a criminal defense attorney, and the poster child for following your dreams at midlife. What a joy to have this second career.
Would you introduce us to Jane Ryland & Jake Brogan?
Well, Booklist did it beautifully—the review of SAY NO MORE says "Boston's smartest and sexiest investigative couple returns and they find themselves entwined in each other's cases."  I love that!
Jane Ryland is a thirty something journalist—sometimes on TV, sometimes for newspapers who's smart and savvy and successful, but has a problem. She's too honorable. She's too–principled. And as a result, when she's asked by "management" to cover a story in a way she doesn't agree is ethical or moral, she resigns. Or, in THE OTHER WOMAN, gets fired.   So she keeps losing her job—and has to find a new one. So far, so good. In each of the novels, Jane's on the trail of a big investigative story. And as we know, that can sometimes be dangerous.
Jake Brogan—is the newest police detective in Boston. He's Harvard-educated, and a terrific and thoughtful investigator. But his grandfather was Boston's police commissioner back in the day—and Jake's colleagues cynically figure Jake got his gold badge because the skids were greased for him. So he has a lot to prove.  And in each of the novels, Jake is on the trail of a big murder mystery.
And in each novel, Jane's investigation and Jake's murder intertwine.
Problem is, Jake and Jane are madly in love with each other. But a cop and a reporter cannot—publicly—have a personal relationship. If there's a leak from the cop shop, Jake will be blamed even if he's not the leaker.  If Jane gets assigned to cover one of Jake's cases—how could she be objective?  What will happen to Jake and Jane? I will admit, I have no idea.
Without spoilers, tell us about Say No More.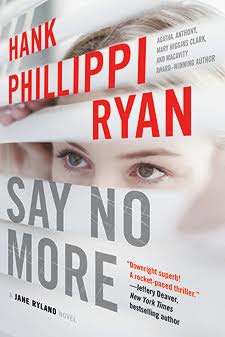 Well, thank you! Yes, RT called it "Brilliant…an exceptional multi-faceted procedural."
Here's the key:  Several years ago, Jonathan and I were driving between Boston and Cambridge, and I witnessed a hit and run accident–a car smashing into the back of a van.  I guess my reporter brain kicked in, because I looked out my passenger-side window at the driver of the car, and carefully and intently catalogued his face. Widows peak, pointy nose, high cheekbones, pointy chin.   I don't know why, I just did.
Then he shifted gears, backed up, and sped away. I got his license plate, too, which I wrote in the dust on our dashboard.
When the police came–I told them I'd recognize the guy. And to let me know if they needed help.
I didn't think they would, but months later I got a call from the DA's office, asking me to come to court and try to point him out. I'd be on the witness stand, he MIGHT be in the audience. (It's called a non-suggestive identification hearing.)
And in that moment I thought–wait a minute. What if that puts my life in danger? I also thought–wow, I don't want to do this.
And then I thought–I spend my entire reporter life trying to get people to talk. Now I see why they might not want to.
And then I thought–HA.  That's a book.
So then the realization: what's one of the worst things that could happen to a reporter? Someone who won't talk.
The result: SAY NO MORE.  When Boston reporter Jane Ryland reports a hit and run, she soon learns she saw more than a car crash—she witnessed the collapse of an alibi, and now she's under pressure to tell all to the police. She's also digging up the inside scoop for an expose of sexual assaults on Boston's college campuses.
But, a disturbing anonymous message—SAY NO MORE—has Jane really and truly scared. Who's sending that–and why?
Then a Boston newcomer watches a murder–but won't tell police.  Why?
A college sexual assault victim is trapped in a sinister scheme to force her silence. Why?
Jane's entire career is about revealing the truth—but what if staying silent is the only thing that keeps the three women alive?
That is SAY NO MORE. (Anyone who has a son of daughter in college—or knows someone who does—I urge you: please read this.)
I still love Charlie McNally. Would you tell us a little about the series that features Charlie?
Thank you! I love her, too. My first main character, a 46 year old TV reporter who wonders: What happens to a TV reporter who's married to her job when the camera doesn't love her anymore?  She's a hot shot, but a little….neurotic, because no one else thinks her career is in jeopardy! But Charlie fears she's only as good as her last story.  She's hard-driving, intelligent, experienced,  talented—and really hilarious.  Her debut, PRIME TIME, won the Agatha for Best First Novel. It was named a TOP PICK  as "the perfect combination of mystery and romance." And that changed my life.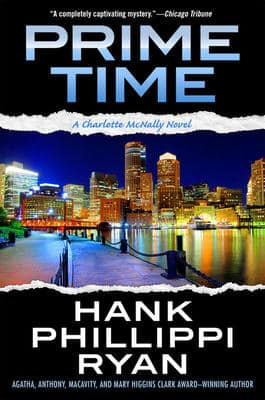 The next three books in the Charlotte McNally series were all award nominees and all four were recently re-issued in all new gorgeous editions from Forge.  Will there be more? Crossing fingers.
Charlie's a TV investigative reporter. Jane has done a little of everything. Which reminds you the most of yourself, and why?
Oh, ah…neither one is me. And both are me.  I'm concerned and dismayed about the ageism against women in broadcasting (and elsewhere) so that's like Charlie. 
I've been a radio reporter, and written news articles and features as a staffer for Rolling Stone Magazine. So that's like Jane.
When I do book events, people always say to me-I didn't know you were funny! And that's because on TV, I'm the tough aggressive one, asking the hard questions.  But some of my sense of humor comes out in the Charlie books, so that's fun for me.
Jane strives to be ethical and honorable—so does Charlie, and so do it I. But as reporters, we all track down clues, and follow leads, and try to come up with a groundbreaking stories.
But what viewers don't know from any of our stories is how we do it—whether we're apprehensive, our personal opinions about the story, how we feel about the people we interview, our concern for ethics and law, whether we're cranky or tired or unhappy—whether we're reluctant, or even terrified.  That's the challenging and unique part of getting to write these investigative thrillers.
It's truly a joy to learn more about Charlotte and Jane as I write their adventures. I have no idea what'll happen next.
Funny—people say, oh you have a man's name and so does Charlie. You did that on purpose, right? Wrong. The first time someone mentioned that to me, I was shocked! I'd never thought about that.
You're a Past President of Sisters in Crime. I can't let an opportunity go by to let you talk about that organization. And, then, what accomplishment are you proudest of from your tenure as President?
Every time I see my name on that list of past presidents I almost burst into tears.  I am so honored to be part that storied and important tradition—and truly, I would not be where I am (wherever that is!) without Sisters in Crime. I revere that group, and rely on it.   My accomplishment? Two things. One, completely personal. The relationships I've made and the advice and assistance and camaraderie I've shared. The other is the heart-breakingly beautiful book of essays I edited for Sisters—WRITES OF PASSAGE. It's a collection of genuinely honest essays by an amazing array of mystery authors, and each generously reveals a turning point in their writing lives. It is a treasure.
Hank, what authors have inspired you?
There are different kinds of inspiration, you know? For people who answered the passion of their drive to write, and did it against all odds, and succeeded brilliantly through their talent and drive: Mary Higgins Clark and Diana Gabaldon and Nora Roberts and Agatha Christie.
For brilliant writing and social insight: Tom Wolfe, and Hunter Thompson, and Edith Wharton. Mark Helprin.
Contemporary writers who totally get it: Michael Koryta. Chris Holm. Linwood Barclay. Mo Hayder.
For great plotting and irresistible storytelling:  Michael Connolly. Lee Child. Stephen King.
Other than your own, name several books you would never part with.
The Complete Sherlock Holmes, battered and dented. A horribly misprinted version of FEAR AND LOATHING ON THE CAMPAIGN TRAIL which the author gave me before the rest of the print run was destroyed. (At least that's what he told me.) My first edition THURBER CARNIVAL.  THE STAND.  My (also battered) Thurber MANY MOONS.
What's on your TBR pile?
About a million notebooks and pencils in case I wake with an idea. Of the scrawls I can actually read the next day,  though, none has been remotely valuable. As for books, my teetering pile now includes an advance copy of Charles Todd's new Inspector Rutledge RACING WITH THE DEVIL. (I love Rutledge, just as much as Morse), THE LAST DAYS OF NIGHT by Graham Moore (so sad that Thomas Edison is not turning out the way I imagined),  AVID READER by Robert Gottleib, Caleb Carr's  SURRENDER NEW YORK, REACHER SAID NOTHING by Andy Martin (reading that for the second time) and NOW, THE PHYSICS OF TIME by Richard Muller. Which, I hope, will explain how I will ever have time to read not only all those, but also all the incoming.
What are some novels by other authors you wish had gotten more attention?
Oh, I don't know that they didn't get attention, but Shannon Kirk's uniquely suspenseful METHOD 15/30.  Michael Koryta's THOSE WHO WISH ME DEAD. Shari Lapena's THE COUPLE NEXT DOOR. And there's a book called ESCAPE VELOCITY  by  Susan  Wolfe  (a former Edgar winner) that's terrific–biting and timely.   So many books–I don't know how we all choose, and it's such a treat to come upon a terrific surprise.  I'd love to hear your choices!
SAY NO MORE
A Boston newcomer watches a murder–but won't tell the police. A campus sexual assault victim is trapped in a sinister scheme to force her silence. And after reporter Jane Ryland witnesses a hit-and-run, she discovers that revealing the truth may put her life in danger.  What if staying silent is the only thing that keeps the three women alive? Hank Ryan's newest ripped from her own headlines thriller: SAY NO MORE.
When Jane Ryland reports a hit and run, she soon learns she saw more than a car crash—she witnessed the collapse of an alibi, and now she's under pressure to tell all to the police. She's also digging up the inside scoop for an expose of sexual assaults on Boston's college campuses for the station's new documentary unit, and is working with a victim to reveal her heartbreaking experience on camera. But a disturbing anonymous message—SAY NO MORE—has Jane truly frightened.
Homicide detective Jake Brogan is on the hunt for the murderer of Avery Morgan, a hot-shot Hollywood screenwriter. As Jake chips his way through a code of silence as shatterproof as any street gang, he'll learn that one newcomer to the neighborhood may have a secret of her own.
A young woman faces a life-changing decision—should she go public about her assault? What's really going on behind closed doors at a prestigious Boston college? And when will the killer strike again? Jane and Jake—now semi-secretly engaged and beginning to reveal their relationship to the world—are both on a high-stakes quest for answers. Can they handle the consequences of the truth?
HANK PHILLIPPI RYAN is the on-air investigative reporter for Boston's NBC affiliate, winning 33 EMMYs and dozens more journalism honors. The bestselling author of nine mysteries, Ryan's also an award-winner in her second profession—with five Agathas, two Anthonys, two Macavitys, the Daphne, and Mary Higgins Clark Award. Critics call her "a superb and gifted story-teller."  Her novels have been named as a Library Journal BEST of 2014 and 2015. Her newest novel is SAY NO MORE– Jeffery Deaver says, "Superb!" and a Library Journal starred review says "Ryan does it again." Hank is a founder of MWA University and 2013 president of National Sisters in Crime.
*****
You really want to try to make it to The Poisoned Pen on Sunday, November 6 at 2 PM. If you can't make it, though, you can order copies of Hank Phillippi Ryan's books through the Web Store. https://bit.ly/2f25GJk