Marcia Clark's Samantha Brinkman Series has landed with NBC. The first in the series, the bestselling and critically acclaimed novel BLOOD DEFENSE, launched this May, and the second in the series, MORAL DEFENSE, will launch this November 8.
So, mark your calendars now because Marcia Clark will be appearing at The Poisoned Pen on Thursday, Nov. 3.
Here's the publicity release for the book from Clark's publisher.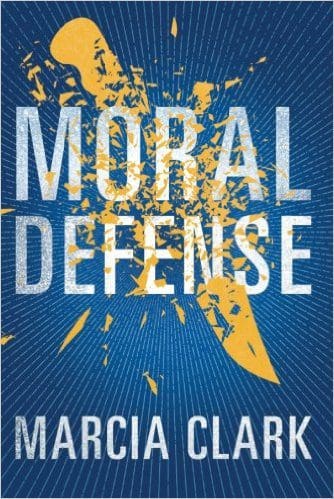 MORAL DEFENSE by Marcia Clark (On-Sale November 8, 2016)
Author and lawyer Marcia Clark has been back in headlines this year due to FX's The People vs. O.J. Simpson (actress Sarah Paulson was just nominated for an Emmy for her portrayal of Clark) and ESPN's documentary, OJ: Made in America. The seasoned crime writer of four previous novels also launched a new series that both long-time devoted fans and new readers are relishing. Blood Defense, which introduced ambitious and hard-hitting criminal defense attorney Samantha Brinkman, was a #1 Kindle bestseller and received wide critical praise as a "top-notch whodunit" (Publishers Weekly, Starred Review), a "page-turner featuring a ballsy protagonist" (Booklist), and a "great suspense novel" (WorkingMother.com).
Now, Clark follows up with a new Samantha Brinkman legal thriller, full of surprises and complications, not to mention moral ambiguities, entitled MORAL DEFENSE (Thomas & Mercer: November 8, 2016; published simultaneously in hardcover, paperback and e-book).
Defense attorney Samantha Brinkman usually doesn't give a second thought to skirting—or even breaking—the rules of law and order when it comes to winning for her clients. In MORAL DEFENSE, she's hired to represent Cassie Sonnenberg, a teenager whose family has just been brutally murdered. Her father and brother were stabbed to death and her mother was left barely clinging to life in their own home. As Sam builds the case to protect her client, she discovers details about the girl and her family that don't add up. Why did Cassie survive? Is she hiding something? Sam finds herself identifying with Cassie as she uncovers startling similarities between the enigmatic teen's upbringing and her own troubled childhood. The case has become personal, and Sam is forced to make some tough choices. How far will she have to go to win?
More and more readers are discovering the winning combination of Marcia Clark's sharp writing, skillful plotting, and intriguing characters with her extensive courtroom knowledge and experience. Clark began her law career as a defense attorney and handles defense work currently, so she knows firsthand all the ins and outs of the defense side. And after years working as a prosecutor, she's having a blast writing from the perspective of a character who can bend the rules to win her cases.