The European Union Intellectual Property Office recently released a report saying €1.3 billion is lost every year across the EU due to fake spirits and wine. That report "shows that 4.4% of legitimate sales of spirits and 2.3% of legitimate sales of wine are lost each year due to counterfeiting of alcoholic drinks. Those lost sales translate into 4,800 jobs directly lost across the spirits and wine sectors in the EU, as legitimate manufacturers employ fewer people than they would have done in the absence of counterfeiting."
Sound familiar? It might, if you read Jeffrey Siger's Chief Inspector Andreas Kaldis mysteries. Here's the description of his last book, Devil of Delphi.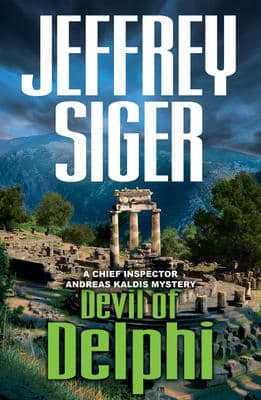 Delphi once stood at the center of the world, a mountainous, verdant home to the gods, where kings and warriors journeyed to hear its Oracle speak. The Oracle embodied the decree of the gods—or at least the word of Apollo. To disobey risked…everything.
Young Athenian Kharon chooses modern Delphi to rebuild his life among its rolling hills and endless olive groves. But his dark past is too celebrated, and his assassin's skills so in demand, that his fate does not rest entirely in his own hands. Greece is being flooded with bomba, counterfeits of the most celebrated alcoholic beverages and wine brands. The legitimate annual trillion-dollar world market is in peril. So, too, are consumers—someone is not just counterfeiting booze, but adulterating it, often with poisonous substances. Who is masterminding this immensely lucrative conspiracy?
Kharon learns who when the ruthless criminal gives him no choice but to serve her. Her decrees are as absolute as the Oracle's, and as fearsomely punished. Kharon agrees, but dictates his own payoff. And his own methods, which allow his targets some choice in the outcomes.
When Kharon unexpectedly shoots a member of one of Greece's richest, most feared families, he draws Chief Inspector Andreas Kaldis into the eye of a political and media firestorm threatening to bring down Greece's government. Think "Breaking Bad," Greek-style.
*****
Jeffrey always seems to have his pulse on Greece's problems. You can order a signed copy or a paperback of Devil of Delphi through the Web Store.  https://bit.ly/2b2rtAS
Watch here for an interview with Jeffrey Siger, and information about the new Andreas Kaldis mystery, Santorini Caesars, due out in September.