I just returned from Book Expo America, the largest annual book trade show in the U.S. I'm sharing a few photos from BEA, but, for you, the books and authors are teasers. The authors are there to talk about their forthcoming books, so you'll have to wait to read them. But, you'll be able to get the books through The Poisoned Pen.
Remember when Robyn Carr was here a few weeks ago? Her novel, The Life She Wants, comes out in September. Her publisher had a banner for it at the show.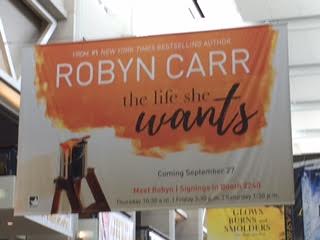 Justin Cronin was there, signing copies of The City of Mirrors, book three of The Passage Trilogy. It's due out soon, if you would like to order copies. https://bit.ly/25aGvc3
Michael Harvey's books have been set in Chicago. Now, with Brighton, he's moving the setting to Boston. That's me (Lesa) in the photo with Michael. I met him years ago at The Poisoned Pen.
And, Louise Penny. Louise was one of the four speakers at the Adult Authors' Breakfast. She brought the audience to tears. Her new Armand Gamache mystery, A Great Reckoning, is due out August 30th.
Watch for these books in a few months. We hope you'll think of The Poisoned Pen when it's time to pick up your copies.