It's not too early to discuss Cozy Con. Saturday, May 7, from 1-5 PM, John Charles will host Cozy Con for The Poisoned Pen, a celebration of cozy mysteries. This year's guest authors include Jenn McKinlay, Paige Shelton, Hannah Dennison, C.S. Harris, Cameron Harvey, Tammy Kaehler, Annette Mahon, and Paul Charles.
To stir up your interest in the event, I've asked a few of the authors to write guest posts for the blog. Tammy Kaehler is the author of the Kate Reilly mystery series, published by Poisoned Pen Press. Tammy  has an interesting take on cozy mysteries.
*****
The Darker Side of Cozy
I go back and forth on the question of whether or not my books are cozies. Yes, she's an amateur sleuth.Yes, she's female. And yes, any sex and violence happens off-screen. But my mysteries are borderline on the other classic criteria—a small-town setting and language—and they don't have what I think of as the classic calm cozy environment.
You see, I write a series about a female racecar driver and set each book at a different race, track, and city. It's true that the setting (the racing world) is its own mobile small-town, but rarely are the victims, suspects, or mystery confined to that world. In fact, my latest, Red Flags, is set in Southern California, and my protagonist, Kate Reilly, chases all over Los Angeles, Long Beach, Hollywood, and Beverly Hills after clues.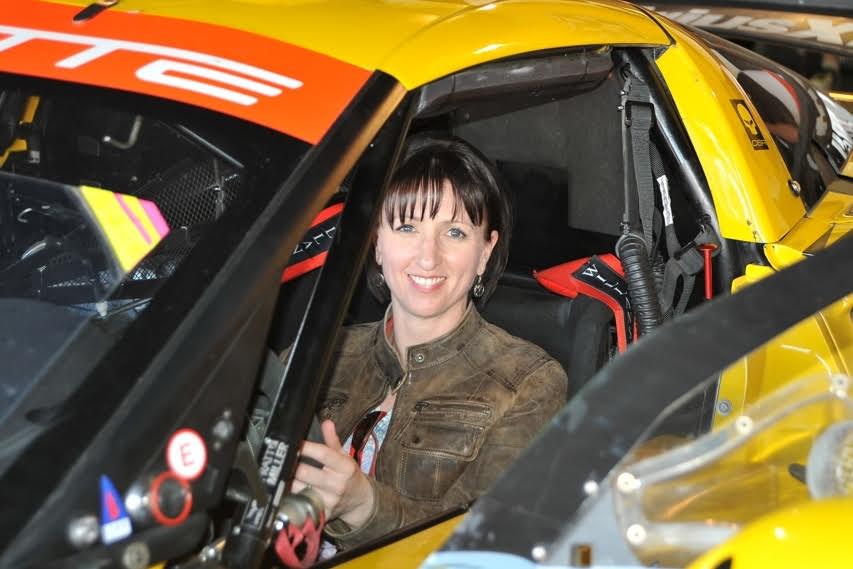 I'll also cop to some bad language on occasion, all coming out of Kate's mouth—though I'm conscious of keeping it limited. But realistically, if Kate's doing 150 m.p.h. and wrecking her racecar, I figure she's allowed some strong language!
There's also a lot more action, tension, and drama to be found on the racetrack than in your average small-town bakery or craft store—and note that I don't confuse "action" with drama or emotion, because even the most sedate settings can be fast-paced and can seethe with violence and passion. But the day-to-day action of a race—not to mention glimpses of Kate's work behind the wheel—is a much different vibe from the classic cozy. I've got no little old ladies, no cats, and no tea or recipes in my books.
Still, I think of what I'm writing as cozy's harder edge. Its darker side. Because I'm still giving readers what I love about cozy mysteries: a puzzle solved by someone who doesn't have all the tools or answers; a sometimes-bumbling, sometimes-successful, and ultimately relatable female character; and a look at a world I know nothing about. I wrote the book I wanted to read, and I'm a huge fan of cozies and traditional mysteries—of Dick Francis, in particular.
So from now on, I'm expanding my definition of cozy mysteries to include more flavors—because who says a cozy can't feature a psychologist, a student of the occult, or a racecar driver? Plus, I'll also enjoy the idea that I write the dark side of anything.
Tell me, what are your favorite types of cozies? What's your definition of a cozy mystery? And do racecars have a place?
_________
Tammy Kaehler is the author of the Kate Reilly Mystery Series, published by Poisoned Pen Press. She'll take part in Cozy Con at The Poisoned Pen on May 7. She'll be signing Red Flags.