James Rollins and Grant Blackwood were just at The Pen to discuss and sign the second Tucker Wayne novel, War Hawk.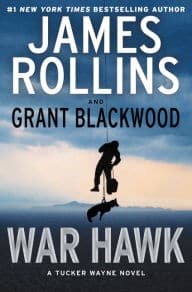 Actually, the books feature Former Army Ranger Tucker Wayne and his war dog, Kane, so, with the purchase of a book, we're including the special collectible dog tag created for the book.
And, we have a note from James Rollins to share here.
Sigma is again going to the dogs—or at least to one dog in particular.
WAR HAWK heralds the return of Captain Tucker Wayne and his military war dog, Kane. I first encountered such a unique pair while on a USO tour to Iraq and Kuwait. Out in that sandbox, I got a chance to observe these fighting teams in action. I heard one phrase over and over again—it runs down the lead—describing how over time a dog and handler learn to read each other's body language, to understand each other beyond mere gesture or spoken command. It was such a unique bond that I wanted to honor it in print. This led to the creation of Tucker and Kane.
Over the years, I've grown to love this pair (and I hope you do, too). In this latest story, I got the opportunity to explore Tucker and Kane's bond in more depth, thrusting them into a global adventure that will test their skills to an extreme. I also wanted to explore their past in this book, a past that will crash land on their doorstep and expose them to a threat tied to the upper echelons of the U.S. government. Hunted and betrayed at every turn, Tucker and Kane must race against time to stop a threat
—one ripped from today's headlines—that could change the face of warfare for all time.
I hope you enjoy the wild ride—
and the shocking truth at the core of this story!
And, we'll have a Livestream event for you to watch in a day or so.