Occasionally, authors send us news that we're happy to pass on to readers. Congratulations to Carolyn Hart, author of Don't Go Home, for this news.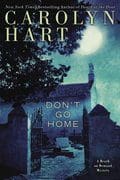 "I love booksellers, especially independent booksellers…. I am thrilled to announce that DON'T GO HOME, now available in paperback, has received a great honor from the Southern Independent Booksellers Association. Don't Go Home is included in the short list for the Beach Music Prize (named in honor of Pat Conroy) for best mystery of 2015. The other titles are by wonderful authors I admire.
https://sibaweb.site-ym.com/blogpost/1157249/243904/The-Pat-Conroy-Southern-Book-Prize-Short-List
"In DON'T GO HOME, a bestselling author comes home to the island and announces he will reveal the inspiration for his characters, which are based on the lives of people he knows. Annie Darling's good friend Marian Kenyon has a secret she is determined to keep. When he is murdered, Annie helps Marian investigate even though Annie promised Max she wouldn't delve into danger.
"There will be a new Death on Demand in spring 2017: WALKING ON MY GRAVE. Annie and Max Darling know a murder is planned. Can they save the victim?"
Congratulations, Carolyn!
These are all the books shortlisted for the mystery or thriller prize.
The Beach Music Mystery Prize
Miss Julia Lays Down the Law by Ann B. Ross (Viking, 9780525427094)
A Pattern of Lies by Charles Todd (William Morrow & Company, 9780062386243)
Bull Mountain by Brian Panowich (G.P. Putnam's Sons, 9780399173967)
Don't Go Home by Carolyn Hart (Berkley Books, 9780425276549)
Lowcountry Boneyard by Susan M. Boyer (Henery Press, 9781941962473)
The Lords of Discipline Thriller Prize
Where All the Light Tends to Go by David Joy (G.P. Putnam's Sons, 9780399172779)
The Bone Tree by Greg Iles (William Morrow & Company, 9780062311115)
Descent by Tim Johnston (Algonquin Books of Chapel Hill, 9781616204778)
Rogue Lawyer by John Grisham (Doubleday Books, 9780385539432)
The Scribe by Matthew Guinn (W.W. Norton & Company, 9780393239294)
These may be prizes given by the Southern Independent Booksellers Association (SIBA), but you can purchase any of these books through The Poisoned Pen.