For the western fans: Wait for Signs/Spirit of Steamboat Package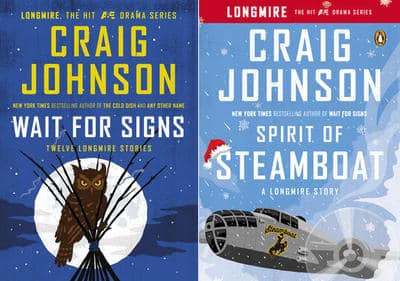 Wait for Signs: Twelve Longmire short stories available for the first time in a single volume—featuring an introduction by Lou Diamond Phillips of Longmire
Ten years ago, Craig Johnson wrote his first short story, the Hillerman Award""winning "Old Indian Trick." This was one of the earliest appearances of the sheriff who would go on to star in Johnson's bestselling, award-winning novels and the hit series Longmire. Each Christmas Eve thereafter, fans rejoiced when Johnson sent out a new short story featuring an episode in Walt's life that doesn't appear in the novels; over the years, many have asked why they can't buy the stories in book form.
Wait for Signs collects those beloved stories—and one entirely new story, "Petunia, Bandit Queen of the Bighorns"—for the very first time in a single volume, regular trade hardcover. With glimpses of Walt's past from the incident in "Ministerial Aide," when the sheriff is mistaken for a deity, to the hilarious "Messenger," where the majority
of the action takes place in a Port-A-Potty, Wait for Signs is a necessary addition to any Longmire fan's shelf and a wonderful way to introduce new readers to the fictional world of Absaroka County, Wyoming.
Spirit of Steamboat: A Christmas novella for fans of the hit show and the New York Times""bestselling series
Sheriff Walt Longmire is in his office reading A Christmas Carol when he is interrupted by a ghost of Christmas past: a young woman with a hairline scar and more than a few questions about his predecessor, Lucian Connally. With his daughter Cady and undersherrif Moretti otherwise engaged, Walt's on his own this Christmas Eve, so he agrees to help her.
At the Durant Home for Assisted Living, Lucian is several tumblers into his Pappy Van Winkle's and swears he's never clapped eyes on the woman before. Disappointed, she whispers "Steamboat" and begins a story that takes them all back to Christmas Eve 1988—a story that will thrill and delight the bestselling series' devoted fans.
---
For the history buffs: Forgotten Fifteenth: The Daring Airmen Who Crippled Hitler's War Machine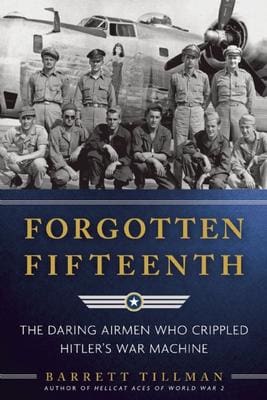 In his new book, Forgotten Fifteenth: The Daring Airmen Who Crippled Hitler's War Machine, Tillman brings into focus a seldom-seen multinational cast of characters, including pilots from Axis nations Romania, Hungary, and Bulgaria and many more remarkable individuals. They were the first generation of fliers-few of them professionals-to conduct a strategic bombing campaign against a major industrial nation. They suffered steady attrition and occasionally spectacular losses. In so doing, they contributed to the end of the most destructive war in history.
Forgotten Fifteenth is the first-ever detailed account of the Fifteenth Air Force in World War II and the brave men that the history books have abandoned until now. Tillman proves this book is a must-read for military history enthusiasts, veterans, and current servicemen.
---
For the sherlockian: In the Company of Sherlock Holmes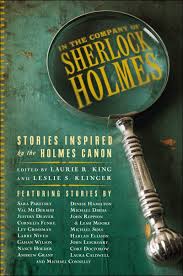 Laurie R. King, author of the New York Times-bestselling Mary Russell series (in which Holmes plays a co-starring role), and Leslie S. Klinger, editor of the New Annotated Sherlock Holmes, have assembled a stellar group of contemporary authors from a variety of genres and asked them to create new stories inspired by that canon. Readers will find Holmes in times and places previously unimagined, as well as characters who have themselves been affected by the tales of Sherlock Holmes.
The resulting volume is an absolute delight for Holmes fans both new and old, with contributions from Michael Connelly, Jeffery Deaver, Michael Dirda, Harlan Ellison, Denise Hamilton, Nancy Holder, John Lescroart, Sara Paretsky, Michael Sims, and more. The game is afoot—again!
---
Or try these favorites of ours from the past year:
---