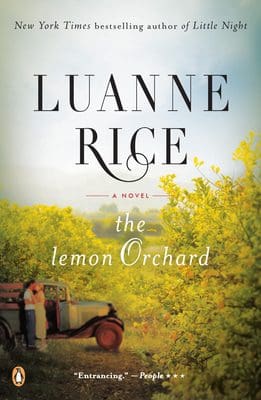 A captivating novel of enduring and unexpected love from New York Times bestselling author Luanne Rice
THE LEMON ORCHARD
by
Luanne Rice

Poisoned Pen Bookstore
Saturday, May 31st, 2014
2:00 PM
New York Times bestselling author Luanne Rice returns this summer with an enchanting new novel, THE LEMON ORCHARD,which tells the unexpected love story of two people from different worlds who share an incredible bond (Penguin Books; On-sale: May 27, 2014; ISBN: 978-0-14-312556-3; $16.00).
It has been five years since Julia visited her aunt and uncle's lemon orchard in Malibu and in that time Julia's world has been turned upside down by her daughter's death. When Julia arrives to housesit, she finds their home and the grove are just as breathtaking as she remembered. A virtual hermit, Julia expects to pass her time in Malibu quietly, with her dog Bonnie as her sole companion, but before long, she finds herself powerfully drawn to the handsome man who oversees the lemon orchard.
Roberto appreciates his job at the grove—it is good, steady work that allows him to support his father in California, as well as his extended family back in Mexico. He expertly tends the orchard but his obsession for his daughter who was lost during their crossing from Mexico preys upon his mind. Consumed by the weight of a terrible secret, Roberto finds a confidant in Julia—this small, pale woman with silver hair and arresting blue eyes—haunted by her own heartbreaking past.    
ABOUT THE AUTHOR   LUANNE RICE is the New York Times bestselling author of thirty-one novels that have been translated into twenty-four languages.  The author of Little Night, The Silver Boat and Beach Girls, Rice's books often center on love, family, nature and the sea.  Rice is an avid naturalist and bird-watcher and is involved with Georgetown University Law Center's Domestic Violence Clinic.  Born in New Britain, Connecticut, Rice divides her time between New York City and Southern California.